Posted by Zin Home on 16th Jan 2023
3 Sofa Styles For Your Industrial-themed Living Room
Industrial interior design traces its roots to the Industrial Revolution in the late 1700s and early 1800s. During this time, factories, mills, and other industrial buildings began popping up worldwide, which had a massive influence on how interiors were designed. Industrial designers began to think outside of the box and create furniture and other items that were more functional and efficient while still being aesthetically pleasing. It focused on incorporating elements of machinery, such as exposed pipes and metal frames, into the overall look of a room. Many people incorporate industrial design elements into their interiors, such as exposed brick walls, concrete floors, and metal accents. Industrial design is a great way to add a unique and modern look to any space, and it will continue to be popular in the future.
What Are The Main Characteristics of Industrial Design?
Industrial-style interior design did not come from a major art movement. Instead, it was a product of necessity. By the 1950s, a surplus of industrial buildings in the United States stood empty. Industrial design came from the attempts of people who wanted to create something new out of factories in the cities that lay empty after the recession. Here are five elements that make up an industrial design.
1. Minimalism
Industrial design is typically characterized by its minimalist aesthetic, often featuring clean lines and a lack of embellishments.
2. Functionality
Industrial design emphasizes the practicality of a piece, utilizing materials and techniques designed to be both functional and aesthetically pleasing.
3. Durability
Industrial design typically utilizes durable materials, such as metal and concrete, to ensure that the pieces will last for a long time.
4. Exposed Materials
To create a unique and modern look, industrial design often features exposed materials, such as pipes, exposed brick, and metal frames.
5. Repurposed Materials
Industrial design often utilizes repurposed materials to create unique and exciting pieces.
6. Neutral Colors
To achieve a modern and minimalist look, industrial design typically features neutral colors, such as black, white, and gray.
Which Sofas Go With Industrial-Themed Interior Design?
Just about any style of sofa will go well with industrial-style spaces. Even the most garish- looking and elaborate piece can provide good contrast with the utilitarian backdrop. However, the best-designed spaces typically have sofas with muted colors and simple lines. Here are three of our recommendations.
1. Grammercy Upholstered Modern Sofa
The Grammercy Upholstered Modern Sofa stands with dignified sophistication, lending the contemporary living room a refined accent. Clean, simple lines and a black iron base keep everything casual and chic.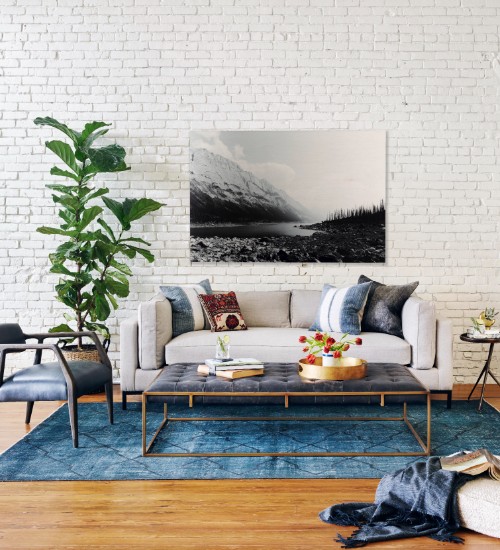 2. Grant Modern Charcoal Grey Armless Corner Sectional
This armless sectional sofa flexes its flexible style and luxurious comfort in chic, family-friendly upholstery. This simplified armless lounging sectional sofa is upholstered in soft, durable, stain-resistant performance fabric in an invitingly dark charcoal. Two large cushions provide back support to give you the most comfortable seat of your life.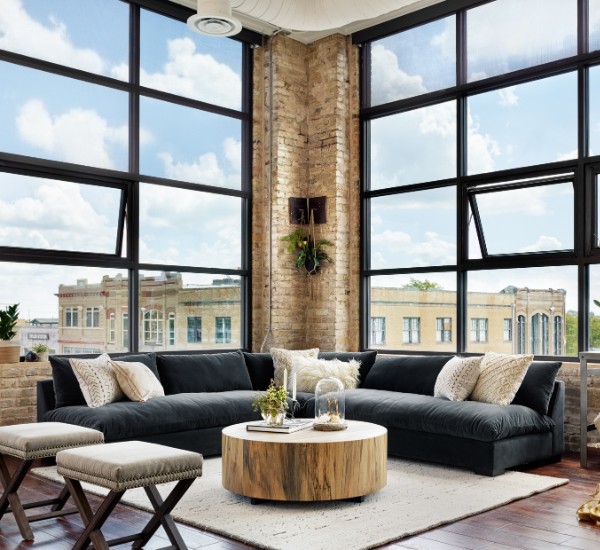 3. Loft Industrial Ebony Leather Sofa
The simple style of the Loft Sofa in leather upholstery makes for a clean, sharp look. Tufted accents create a beautiful pattern, and the couch's low profile makes the loft sofa an ideal item in industrial themed livingroom
Choosing a sofa for an industrial-style room design can be a difficult task. However, with the proper knowledge and a few of the sofas mentioned above, you can create a beautiful, modern, and stylish look for your space. Whether you choose the rustic charm of the Industrial Leather Sofa, the sleek lines of the Florence Style Leather Loft Sofa, or the contemporary feel of the Mid-Century Grammercy Upholstered Modern Sofa, you can be sure that your industrial room design will stand out and make a statement.
Zin Home is a modern home furniture store that you can visit online. With just a few clicks, you could be the owner of timeless and stylish furniture fit for the modern home. Shop now and get free shipping on orders over $49.