Posted by Zin Home on 7th Jan 2019
Bar Stool Buying Guide
Nothing shows modern confidence in your living space quite like bar stools. They just have that "less is more" charm: although they seem like they should be less of a chair, they actually seem to provide more. That's because of the freedom and comfort a bar stool provides, combined with the mature associations of an adults-only drinking establishment. The room you put bar stools in goes from being your parents' house to an establishment. Zin Home pride ourselves in a diverse array of bar stools in all styles. And in general, when shopping for bar stools over the internet, it can be easy to feel spoiled for choice. So where to begin? Well…
Swivel Counter Stools with Back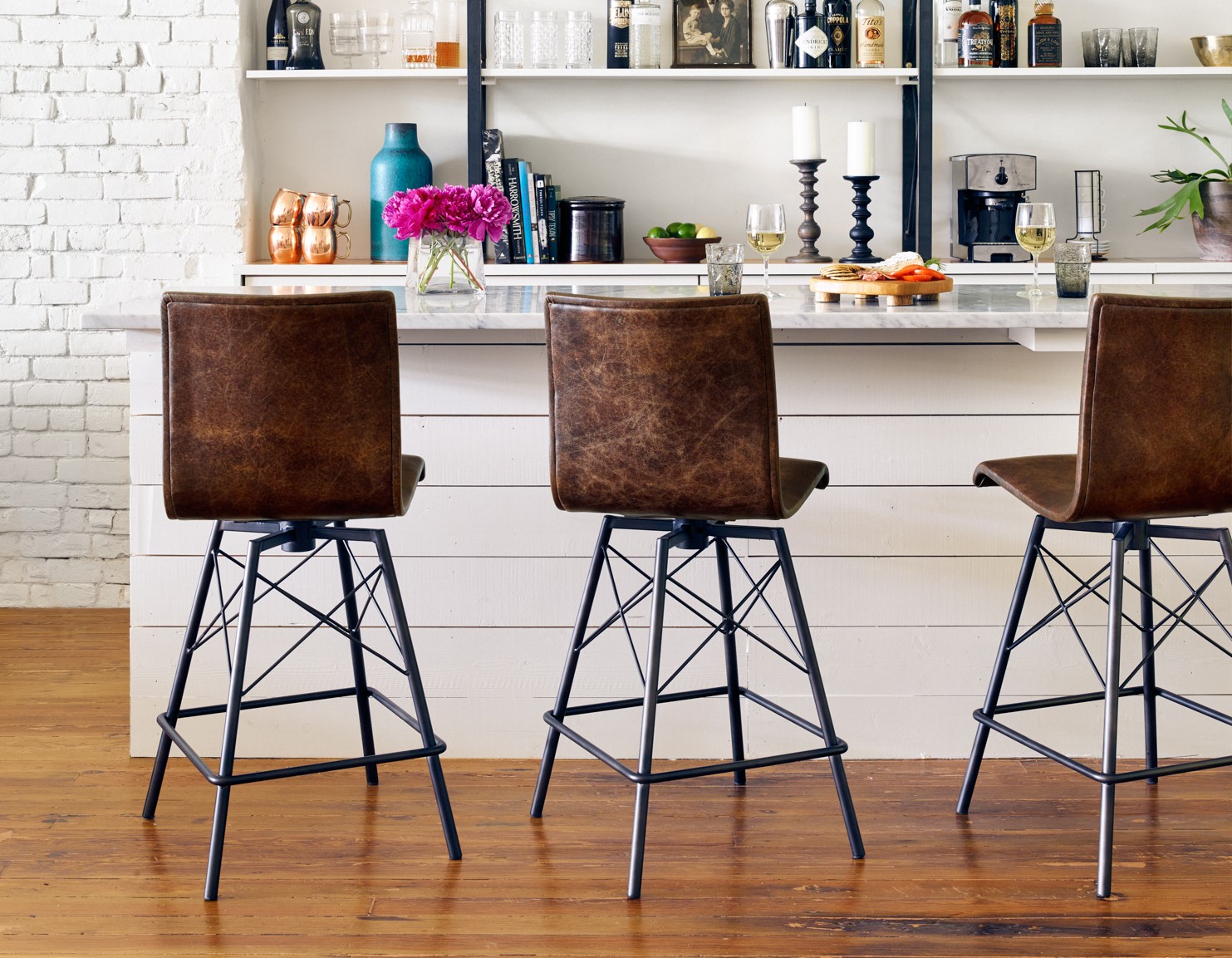 Stylish shape
The style you choose for your bar stools actually begins with their most generic shape. For example: do you want one which has a seat-back, like at an arcade? This style of bar stool is more comfortable for prolonged sitting, and therefore is ideal if you think the table they'll be seated next to will be host to more full meals than brief sit-downs. On the other hand, the seat-backed bar stools tend to still be quite close to traditional chairs. The on-the-fly freedom you get with a mobile backless stool can make the stools appear less unobtrusive visually, and even be less unobtrusive, if you tuck them under the table or counter.
For a compromise, or the best of both worlds, try a swiveling bar stool, which won't be as mobile as the backless stools at the base, but will provide more freedom to move from one conversation, project, meal etc. to the next by spinning around. It's also loads of fun! Don't just try to find a style you prefer here: different stools serve different purposes. Consider the space in each area, what you'll be using it for, and then your aesthetic preferences alongside that to make sure you get a stool which is the right one for your purposes in a given room!
Backless Barstools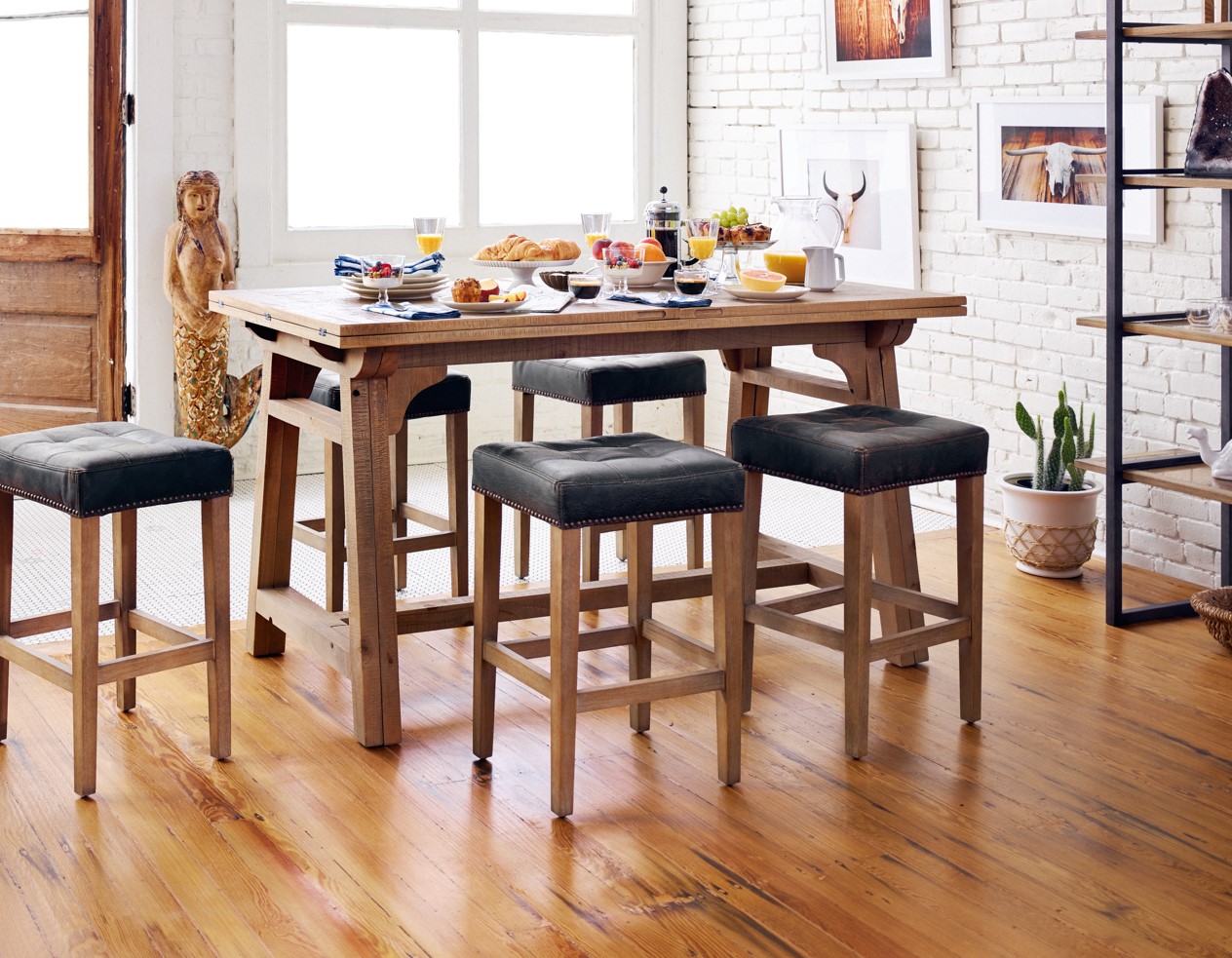 Counter-height or bar-height?
Counter-height stools will be about the same height as an ordinary chair, and therefore certain tables will demand them: you don't want to be towering over your table, unable to reach things on it!
Bar-height stools on the other hand are for taller surfaces, which could also be tables or counters. The main thing is, to make sure that the height of the seat of the stool will allow for 9-12" for leg space. Even if you're not actually going to have the stools under a surface, measure as if you will to make sure there's an appropriate distance in seated position to the surface in question (even if your legs don't go under it based on the design of the stool or the surface).
Even easier, several of our stools have adjustable heights, which could be very helpful if you have a space where you don't need or want too many chairs for multiple surfaces.
Saddle Kitchen Counter Stools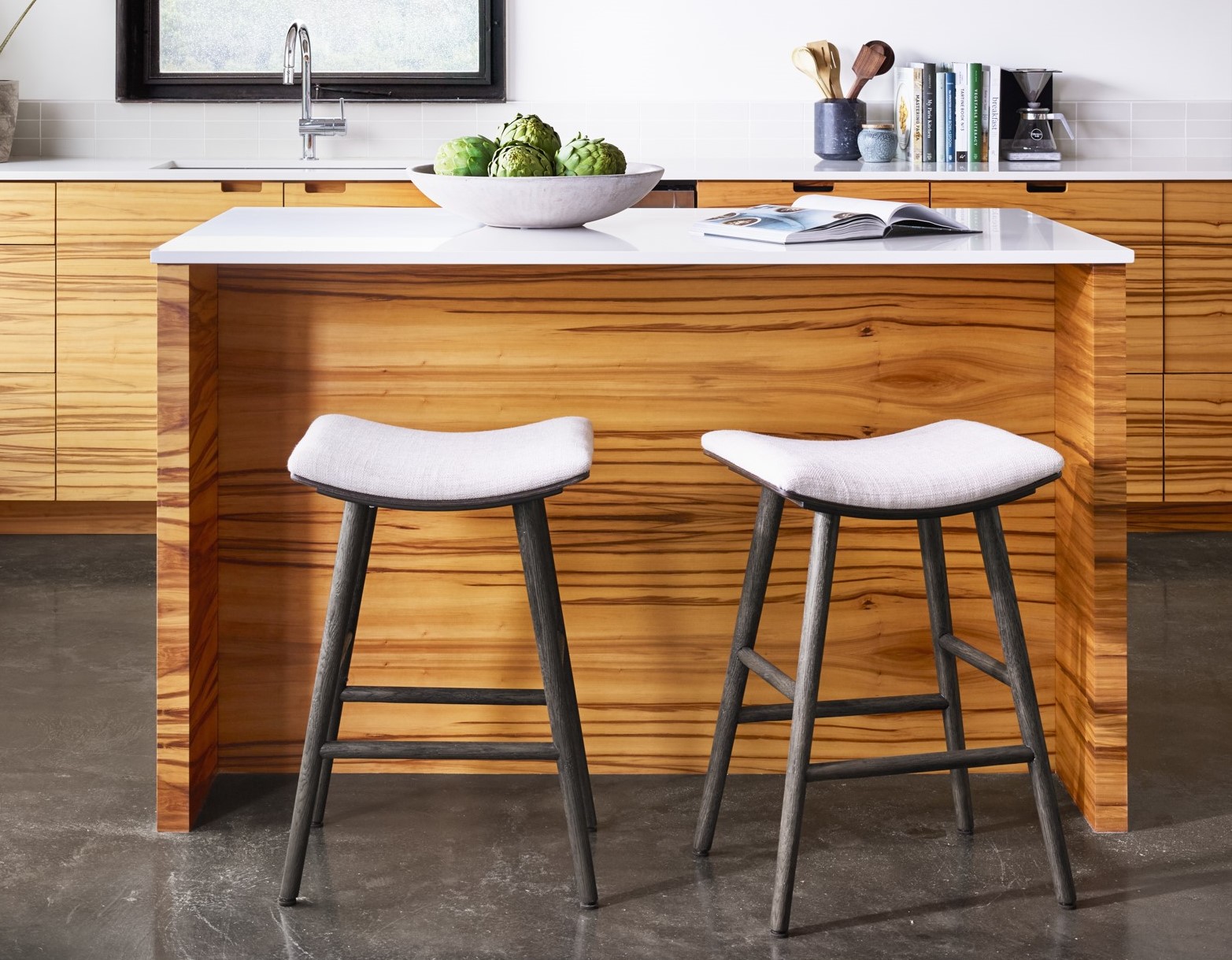 Less is more, but more is also more

Once you've got these basic considerations down, it's mostly a matter of taste: will you want colorful plastic or old-fashioned wood, which color schemes or patterns work best for you and the space you'll be installing them in?
Because a big part of the appeal of the bar stool is their minimal obtrusiveness, even those which are fixed in place and can't be slid under tables, a simple design that blends into the rest of the room's aesthetic is often best. Of course, this all depends on you: maybe you want to turn the bar stools into little colorful accent marks for the room when no one's sitting on them!
Once you have your stools chosen for functionality, look, and size, it's time to think about quantity and arrangements. If you position the stools too close to each other, people will always be bumping legs. A good rule of thumb is to have between two and three feet between the centre of the backs of two chairs. For swivel chairs, better to err closer on the side of three feet, because people will be able to swing to the sides, potentially bringing their legs into direct contact.
Bar stool with back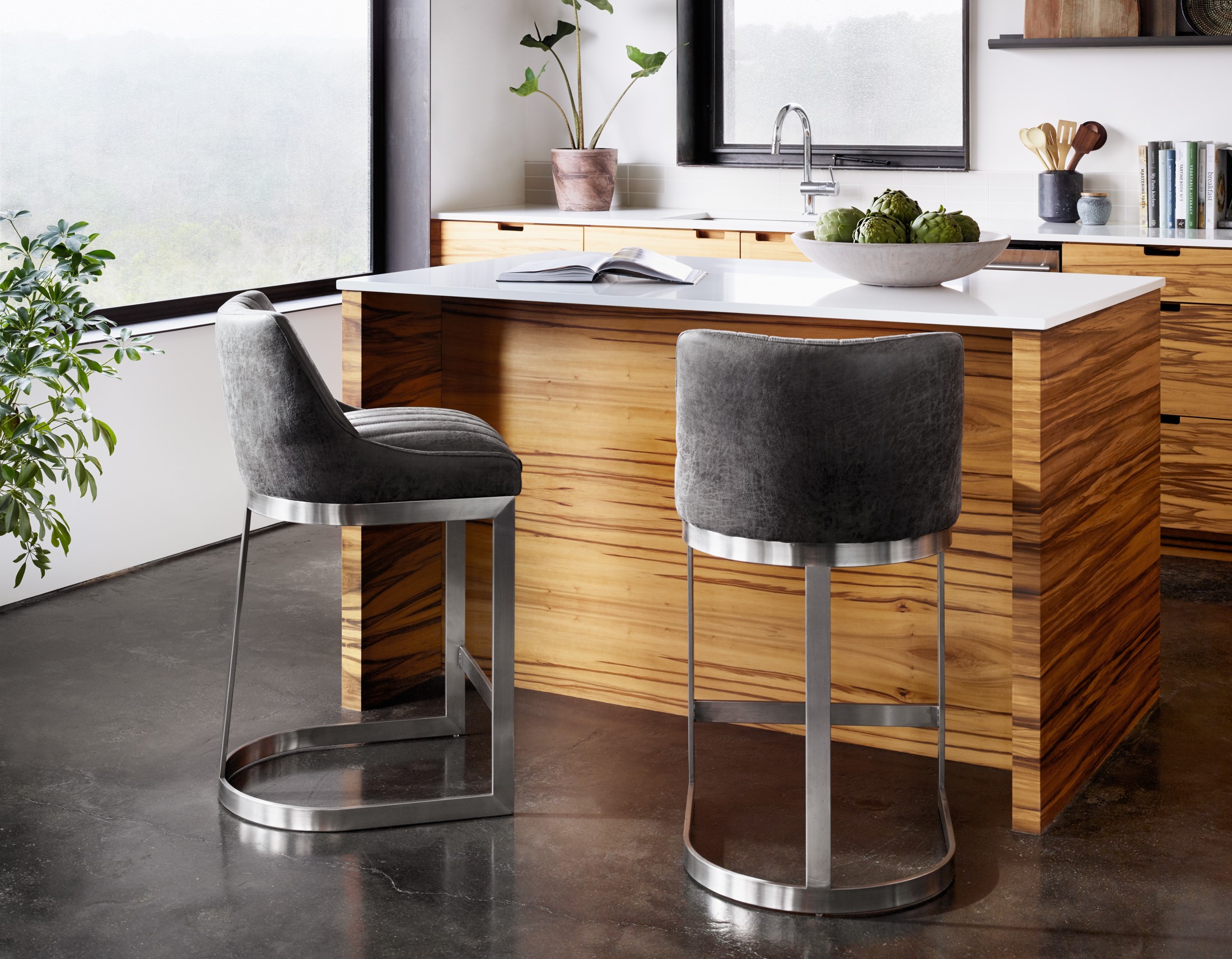 Measuring accordingly, how many chairs do you want? You'll probably need to install less than you initially thought in any given area, so as to allow for people's legs to have space. But of course, the less bar stools you have, the less people who can sit down! Make sure you utilize your space effectively to avid these problems: for example, if you have a table, make sure it has a healthy distance from all walls. This way, you can maximize space for bar stools.
Again, it may be best to consider swivel chairs if there are multiple directions in which guests might want to sit, particularly if the number of guests is small. All things considered, you'll want to buy as many stools as possible for the space in question. Even if you live alone, you never know when you might have a party where you'll want to be able to keep as many people seated at once to allow for standing and walking room. Consider your storage space as well when making this decision.
So, now that you've got your bar stools picked out (and hopefully shipped and set up), you can start to look at your place as a proper social venue. Your bar in the house now has its swivel chairs, your dining table has sleek, modern seat-back stools like in a trendy restaurant, so what's left?
Nothing but to sit back, relax, and take in the happening new hot spot which you've built in your home! Host a small event, take a selfie, and post it to Facebook! With your bar stools, you're sure to be the envy of other hosts!
Counter Stool with footrest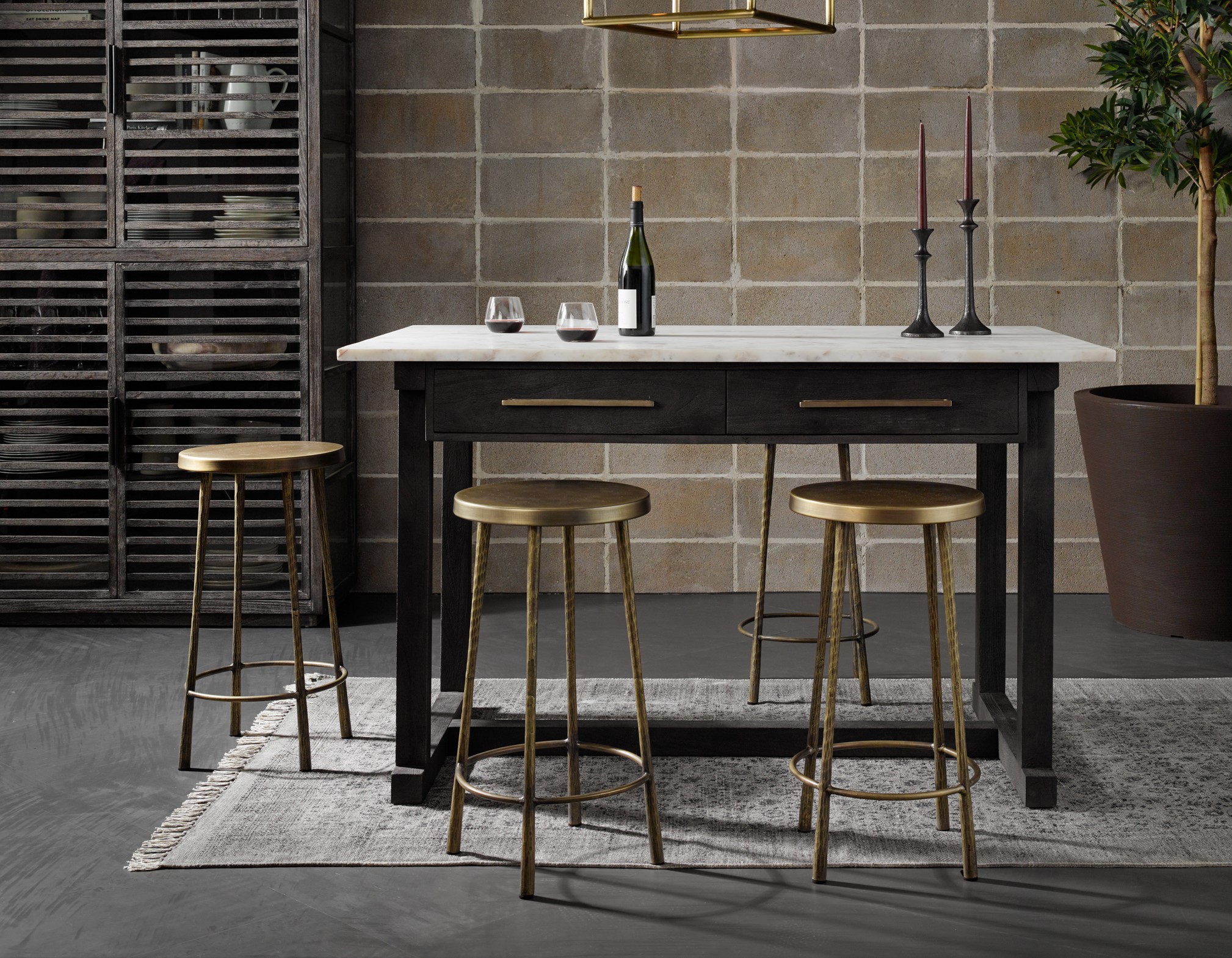 Scooped Modern Swivel Barstool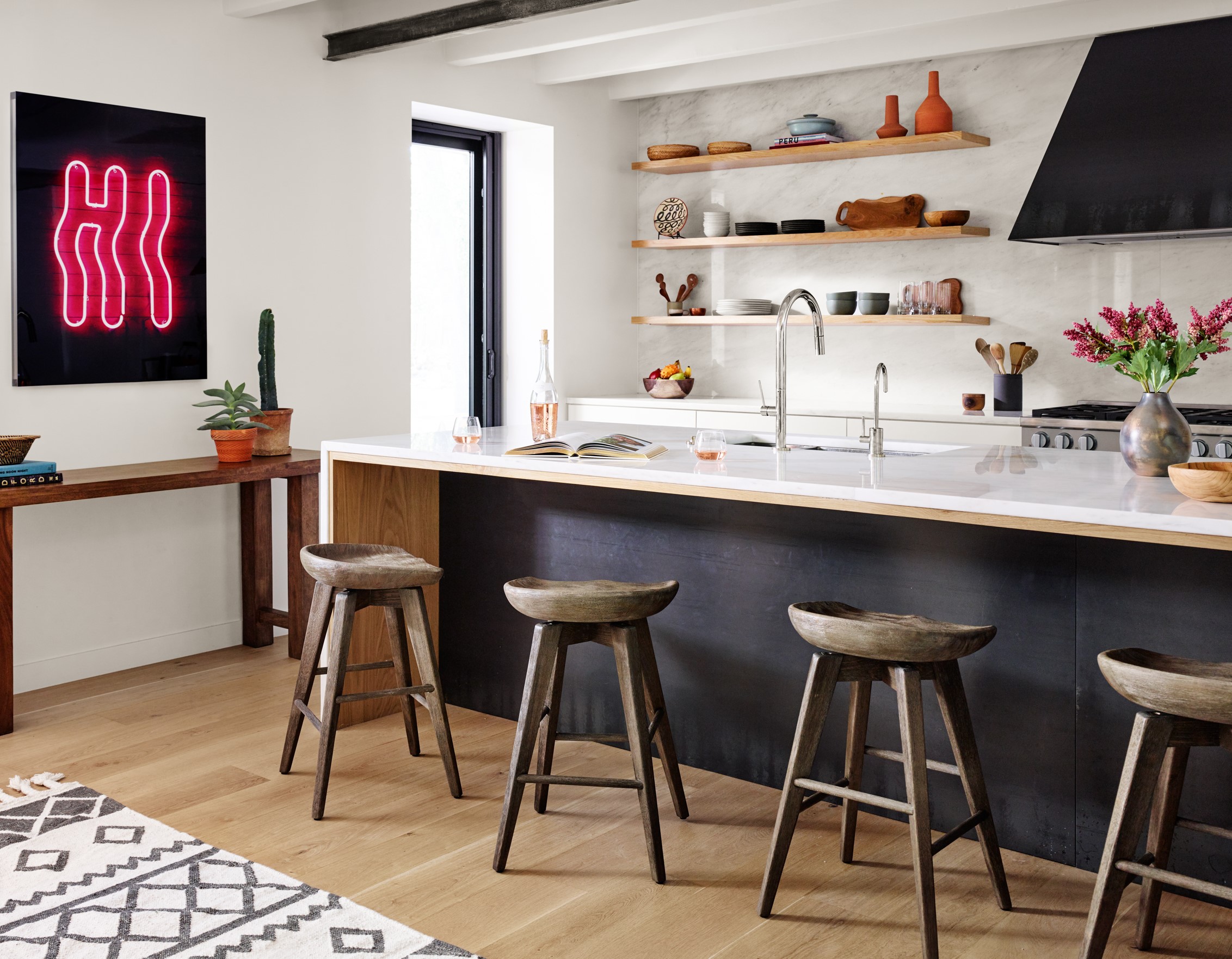 Tractor Swivel Adjustable Counter Stool