Posted by Zin Home on 27th Aug 2018
Custom Build Your Sectional Couch: Our Best Modular Sofas!
If you're in the market for a sofa, sectional, couch, or a loveseat to fit an odd space, or you want to have the option to re-configuring your sofa in case you get married with your boy friend and move into a larger apartment or house, a modular couch system is the right investment. You can just buy individual sectional sofa pieces that suit your needs for now, and either rearrange them or add more pieces to it as you go. It's like playing with building blocks, but for adults!
When you purchase sofas that are customizable, you'll discover it is fun!. We've created a vast and versatile collection of modular seating systems in a number of fashionable styles, from contemporary to traditional, modern to retro style and beyond.

With interchangeable modular sectional pieces, you can mix and match with individual armless chair pieces, corner chair pieces and ottomans. That'll allow you to design a sectional couch that fits your family room or living room but could be easily taken apart and moved into another room if you need extra seating at a moment's notice. Best of all, is that each piece can be moved separately, which means they go up and down stairs and around corners with ease when you are moving from New York City to the suburbs!
Westworld Modular Sectional Couch System
Luxurious comfort with a functional spin. Clean-lined and simply styled, neutral stone or charcoal-toned upholstery and espresso-finished banak wood base keep things classy while casual. Various configurations offer flexibility to fit any size space. Westwood Modular Sofas offer Corner Piece, RAF Piece, LAF Piece, Armless Piece and Ottaman to choose from.

Bloor Contemporary Modular Sectional Couches
Everything about the Bloor modular sectionals says relax—from its deep, low seats to its durable polyester upholstery in décor-friendly natural light grey. Perfect for the casual living room, this multiple piece modular sectional sofa bolsters the back with double-stacked cushions, combining maximum comfort and clean lines.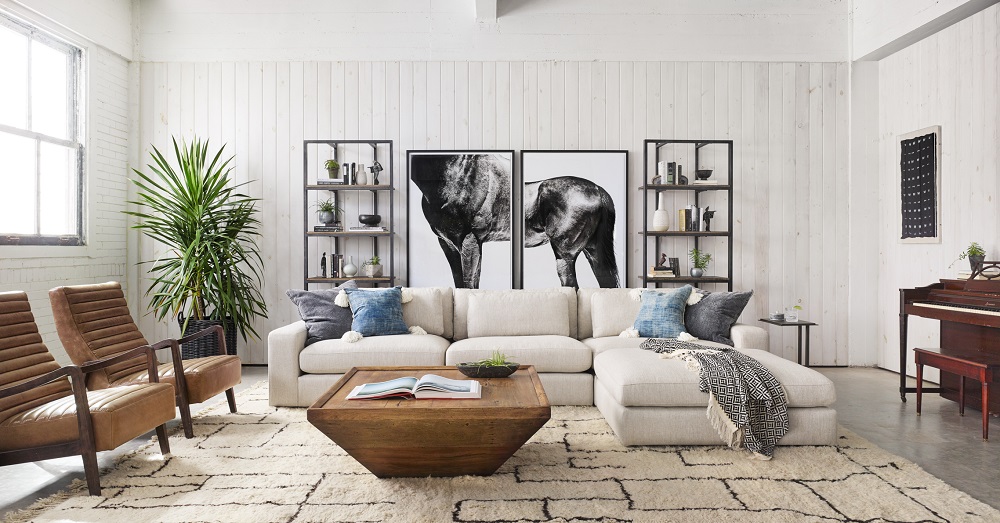 Langham Retro Modern Modular Couch System
Wide, low-slung and luxurious, our Langham Channel Tufted Modular Sectional Sofas offers a modish Italian silhouette that's both versatile and livable. Wide, vertical channeling brings a textural sense to gray hue sandstone-colored durable upholstery. Add to this modular couch system individually available coordinating pieces to create the ideal left facing modular sectional couches combination for any space. Whether you live in a four-bedroom house, or a one-room city apartment this retro modern modular sectional sofa will fit right in.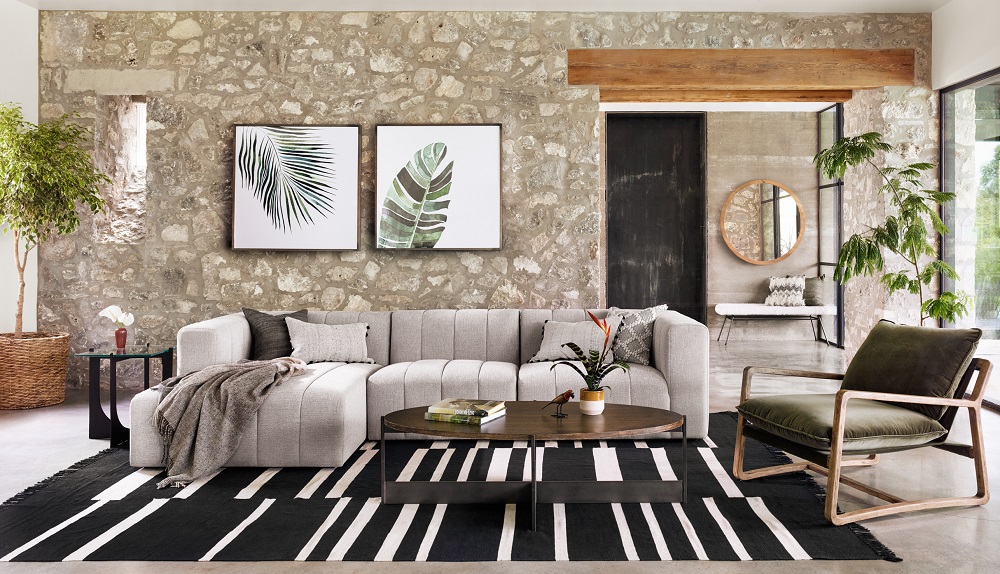 Grant Modern Armless Modular Sectional Sofas
The modern lounging essential, the Grant sectional beckons with a plush bench-style seat and pillow backs for squishing into position. Covered in durable, stain-resistant fabric in an inviting shade of charcoal or oatmeal colors, this modular sectional sofa is great for family rooms and casual living spaces.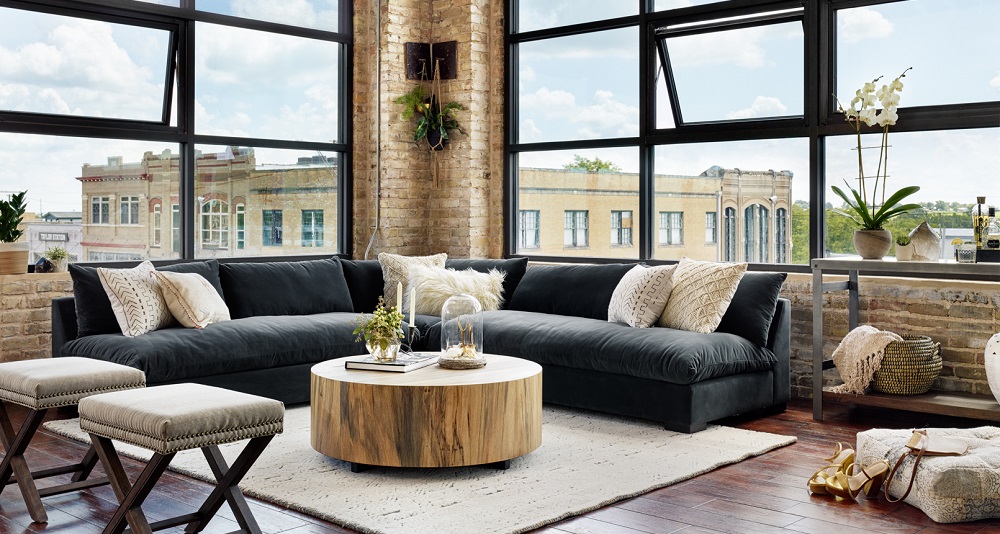 Palmer Beach Style Modular Sectional Sofas
Relaxed Coastal Beach style and luxurious comfort in chic, family-friendly performance Revolution fabric upholstery. Our most comfortable sectional sofa ever, Palmer Coastal Beige 5-Pc Modular Corner Sectional Sofa's modular design nods to the relaxed look of beach style, while its comfort is simply unparalleled. Palmer corner sectionals feature supersoft, lofty cushions that invite the whole family to lounge together while it is easy to customize for any living space – large or small. Clean lines and track arms create a contemporary silhouette, while included throw pillows complete the comfortable and welcoming look.
Connell Channel Back Modular Couch System
Our Connell Channel Back Modular Sectional Sofa offers a 70's style retro modern silhouette that's both versatile and livable. Single channeling brings a textural sense to neutral honey wheat colored durable upholstery. Add individually available coordinating modular components to create the ideal modular sectional or sofa combination for any space.