Posted by Zin Home on 19th Jun 2018
Lounge Love Affairs: Why Your New Sofa Should be Modular
If you're the cleaner in the household, chances are you've bemoaned the state of the sofa before or cursed its bulk as you attempted to scoot it to the side to sweep underneath. If you're not the cleaning sort, it's a central place of zen that hides your forgotten crumbs and change. Regardless of age or personality type, the sofa is a central meeting place where families come together. However, finding the right one is no walk in the park. We're here to make the decision simple for you.
Because what you need, no matter your situation, is a new sectional sofa. But not just any kind of sofa. My friends, it's time to go modular. Here, we'll explain why everyone is buying a sectional sofa and why you should, too.
What is a Modular Sectional?
Modular sofas are better known as sectionals. They're made of several different parts which can be taken apart and rearranged for different effects. You can make a couch into a love seat or a love seat into two or three chairs. You can make different shapes to suit the area or change corner options. They come with an abundance of advantages.
Why Your New Sofa Should Be Modular Sectional
We're going to make the decision easy for you because when it comes to a sectional or a sofa (you know, the regular, old kind) the sectional will win an audience's favor almost every time.
Here's why.
Versatility
The greatest advantage of a wrap-around sofa is its versatility. You can take it apart to suit any occasion so that it fits your decor perfectly. Expecting the monster-in-laws? Separate it into multiple chairs. Are the kids getting together for Christmas? Smash it together into an endlessly long couch and chuckle as they pick on each other. Designer Nicole Lanteri says of sectionals, "If you buy furniture that works with you, that you can adjust to suit different occasions, like movie nights or parties, you can do a lot more with a little space."
Family size
We all know "one is the loneliest number" that we'll ever do and that "two can be as bad as one." But with a sectional, family size doesn't matter. Whether it's the lonely one or eight romping kids, you're covered. Why? Because it's up to you how many "pieces" you would like for your modular. It can be short. It can be long. And you all won't be so squished together during your late night movie you end up resenting each and every one of your family members by the end.
This plain fact is one of the reasons sales for sectionals are up. Senior buyer Michelle Enders says, "They make a lot of sense. They maximize your seating area, and in the larger great rooms, they help to break the room up." That leads us to our next benefit.
Interior Decorating
You have a lot more flexibility with a modular than a regular sofa. You can move furniture on a dime, rearrange rooms completely or go for a specific type of look. Sectionals are great for the urban loft appearance. They're so popular in this arena that Architectural Digest made an entire listicle describing 21 sectional sofas that "make" a room.
Variety of Sizes
You don't have to buy a monstrosity or get sucked into plush, cushiony depths, never to be seen again. This furniture can be made for smaller housing, too. Smaller sized sectionals are a thing (if they weren't, practically all New Yorkers would be out of luck). So regardless if you're living in a studio apartment or in a mansion, these sofas will do what they do best: look splendid and feel even better than they look on the tush.
Comfort
Speaking of the tush. What's a sofa without any plush support? A modular couch comes in a variety of soft, pillowy goodness, just like any other new (and well-picked) couch. But unlike other sofas, these have the added bonus of creating sofa beds, chaises or love seats with their many parts.
So your tush gets whatever it wants for the night, and with minimal effort. One sectional advocate said, "One of my favorite little joys is to push the ottoman into the 'L' formed by the chaise on my leather sofa, create a double bed-like area, and snuggle up on it to watch TV with my boyfriend."
Netflix and popcorn, please!
Space Saver
Believe it or not, these are also great for saving space and giving the appearance of divided sections. "individual sectional sofa pieces create a sense of a room and enclosure without 'eating space' in this apartment as successfully as it did in my last," said one consumer. Sectionals work with space to divvy it up, creating a room within a room.
Moving
How many times have you had to lug your old sectional couch in and out of a new apartment or house? How'd your back feel afterwards? All of that disappears with a satisfying poof if you purchase a modular sectional. Since it breaks into multiple parts, it's easy to lift and maneuver.
Less Costly Replacements
Kids and pets have a way of making something brand-spanking new look decades old within months. With a sectional, you won't have to pay to get the entire sofa fixed or replaced. You only have to pay for a small part.
Durability
Nowadays, these lounge love affairs are made with those little rascals in mind. If the kiddie juice is spilled on the fabric, it beads. If someone (we're looking at you, household cat and dog) has an accident on a cushion, the odor won't linger. More and more often, these benefits are one of the many you'll experience.
Happy Bottoms
It's time to put the couch with the painful backing and black-hole sag behind you. It's time for a new sofa. If you're new to the sectional world, we recommend the Westworld four-piece lounge set. It's sure to make not just your bottom happy, but your tootsies and spine and, well, basically every part of you happy, too. So whether you're the house cleaning type or the couch potato, consider modular sectional couches. Designer Liz Levin puts it perfectly: "Whatever your hesitations are, get over them. Especially if you're in a small space, it's probably exactly the solution you're looking for."
Thanks, Liz. We couldn't have said it better ourselves.
We'd like to introduce our most popular sectionals sofas that are modular, crafted and designed Kids, Families and Pets in mind!
Westworld Modern Modular Lounge Sectional Sofas
Lounge in ultimate comfort on this fabulous deep-seat modular sectionals. This best selling modular sectional sofa, made up of individual sectional sofa pieces, features super-deep, low seats and super-soft back cushions that invite family to pile on and sink in.
Bloor Contemporary Sectional Couches
Home is where the comfort is. Clean lines and softened edges add a welcoming presence to a range of rooms. Introducing sectionals scaled for smaller spaces, modular pieces that allow customization that make living with furnishings as easy as looking at them.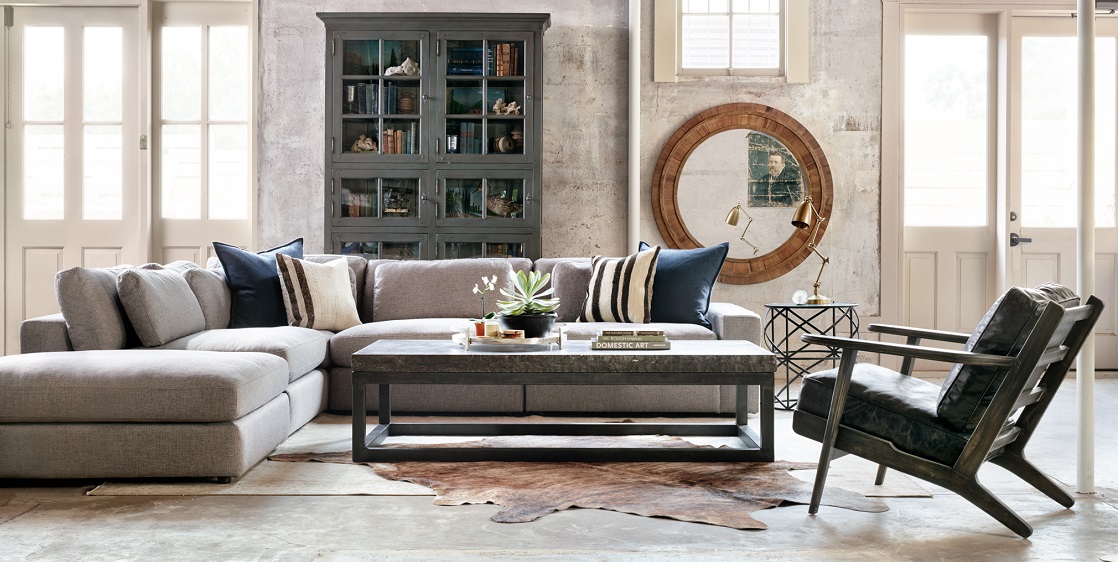 Grant Modern Modular Sectional Sofas
Flexible style and luxurious comfort in chic, family-friendly upholstery. Welcome to the modern lounging essential. Simplified armless lounging sectional sofa is upholstered in soft, durable, stain-resistant Performance fabric in an invitingly nice color options. With the Grant Armless Sectional Sofas you can create a sectional of your choice whether a L-Shaped Sectional or an U-Shaped Sofa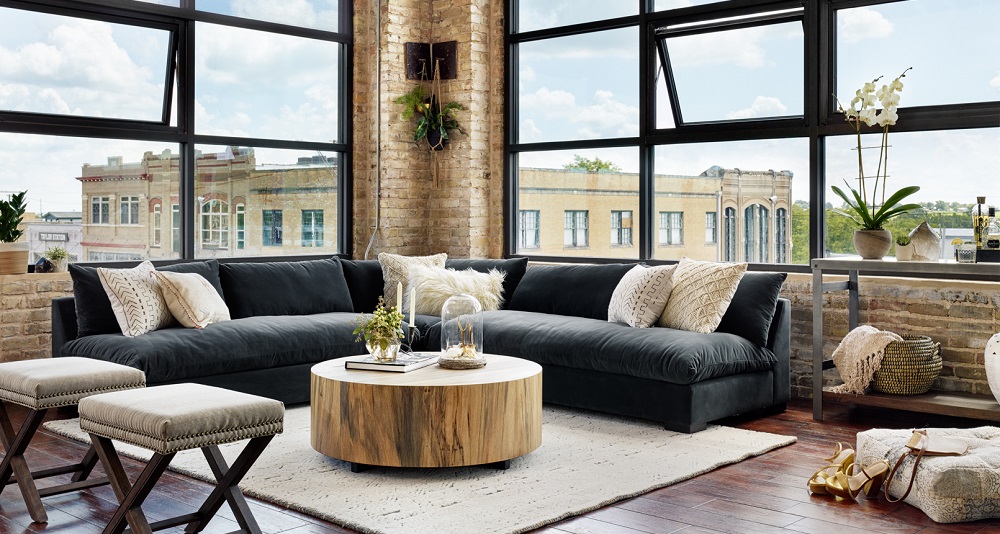 Grammercy 2 Piece Sectional Sofas
Flexible style, luxurious comfort, and family-friendly upholstery. Clean, simple lines and a black iron base keep everything casual and chic. Grammercy Sectionals are available in beige and gray colors.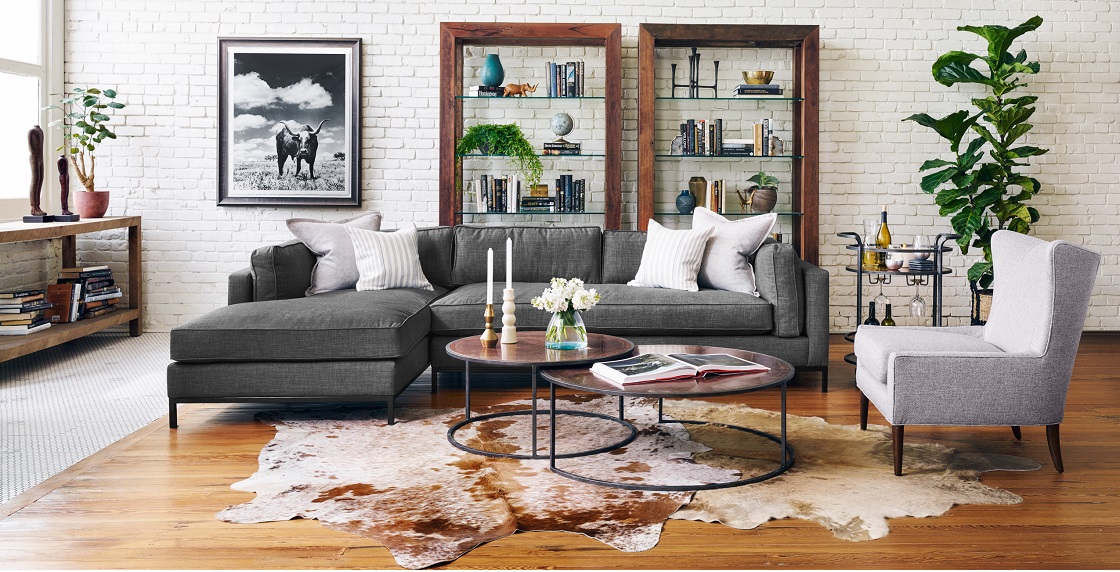 Langham Channel Tufted Modular Sectionals
Wide, low-slung and luxurious, our Langham Channel Tufted Modular Sectional offers a modish Italian silhouette that's both versatile and livable. Wide, vertical channeling brings a textural sense to gray hue sandstone-colored durable upholstery. Add to this modular couch system individually available coordinating pieces to create the ideal modular sectional couches combination for any space. Whether you live in a four-bedroom house, or a one-room city apartment this retro modern modular sectional sofa will fit right in.