Posted by Zin Home on 7th Nov 2018
7 Musts For A Holiday Party Host
The holidays can already be a stressful time of year, but especially if there's company coming over! Whether for dreaded relatives or dear friends, hosting is a big job. Here are seven crucial things to keep in mind before you host that'll make your event as smooth as possible for yourself and your guests.
Be original
Even if your party ultimately boils down to food and drink, no two parties are the same, or they shouldn't be. You can and should always spice up a gathering with little original details: a featured cocktail, a new party game, a fun dress code or maybe even costumes… just find something fun and unusual you'd like to share with your guests and make the evening memorable!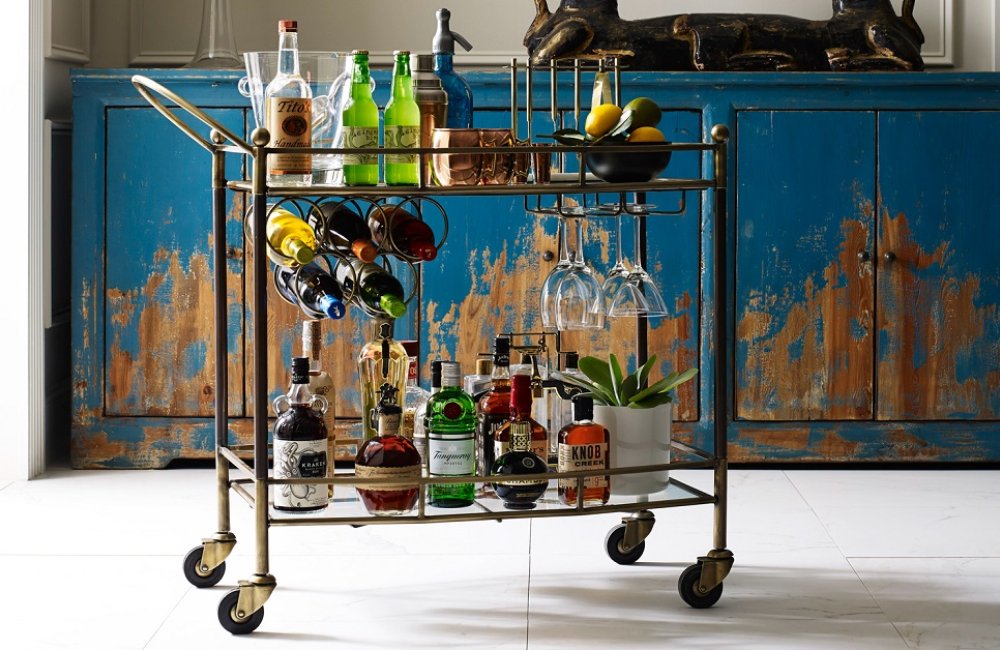 AN ANTIQUED BRASS BAR CART LIKE COLES MAKES AN ELEGANT CONVERSATION STARTER.
Be prepared
Even if you weren't a scout, you must know this motto. You don't have to have every second of the party planned ahead of time, but wouldn't you rather be able to relax almost as much as your guests? Do all your food prep the night before, so that pre-arrival, cooking and serving out food and drinks can be done quickly and easily throughout the evening. If all the drinks, dishes and details are ready ahead of time, it will barely matter who's putting them out!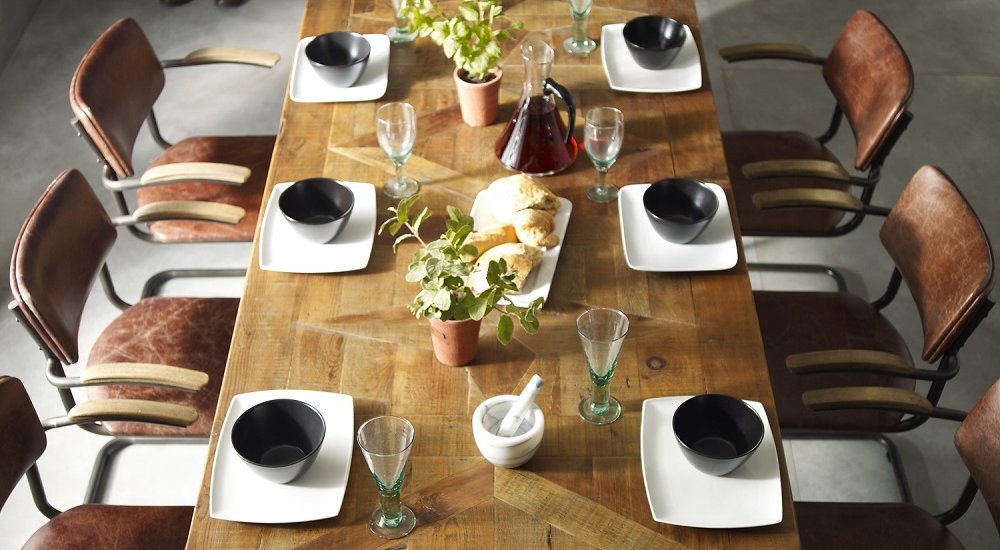 MAKING SURE YOU HAVE ENOUGH SEAT FOR EVERY GUEST IS ESSENTIAL. A LARGE DINING TABLE LIKE THE CASTLE TRESTLE TABLE AND CHIC LEATHER CHAIRS SHOULD DO IT.
Be cool
Once you've given your party some theme and gotten everything ready ahead of time, you can get yourself in a relaxed mood with a drink, some music, meditation, whatever will get you relaxed and ready to mingle with your guests! This way, even if something hasn't gone perfectly according to plan, you'll be cool and the environment will be friendly and social.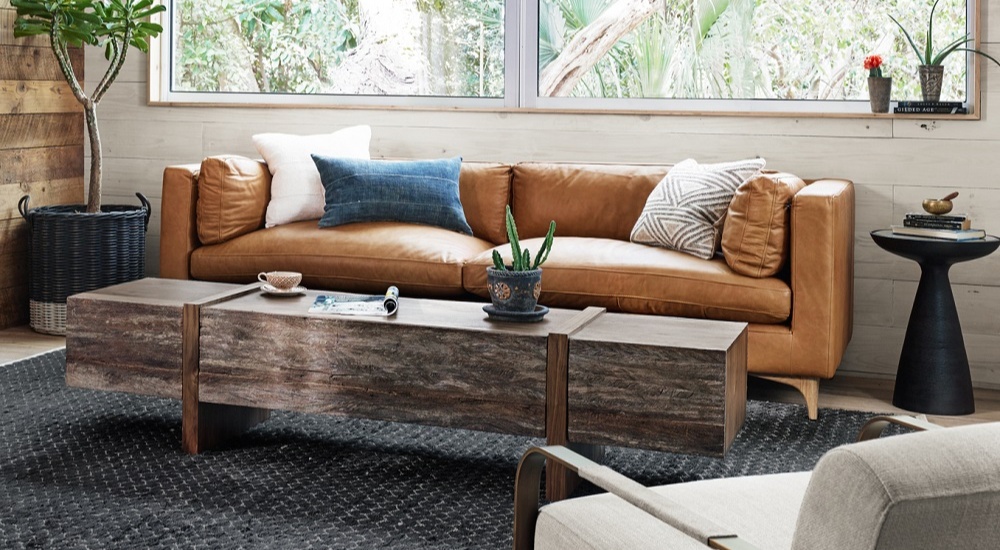 BEING RELAXED AND RESTED BEFORE THE BIG EVENT IS IMPORTANT. A QUICK LOUNGE ON A LEATHER SOFA, FOR INSTANCE, IS A GREAT WAY TO UNWIND.
Keep everyone busy
While you don't have to necessarily turn into an elementary school teacher and announce activities every few minutes, as the host, you are in a position to direct the flow of activity. Not only can you keep people talking to each other and having a good time, if you've prepared your party right, you can also ask your guests to help without any trouble, allowing you to stay in the mix yourself!
Keep things simple
For you and your guests, the easiest way to derail the evening would be over-complication. Don't be afraid to cut the menu down to fewer choices, simplify the aesthetics down to clear and concise concepts, and have fun with your guests without thinking too much. Remember: less is more!
Keep it groovy
Our music is the rhythm of our lives, and get-togethers are no exception: set up a dinner playlist, or search for one on a music streaming service. No matter how diverse your guest list, you should be able to come up with a selection of music appropriate to play in the background of their conversations. Consider choosing some less known tunes, to spark new conversation when the music fills in where an awkward silence would have been.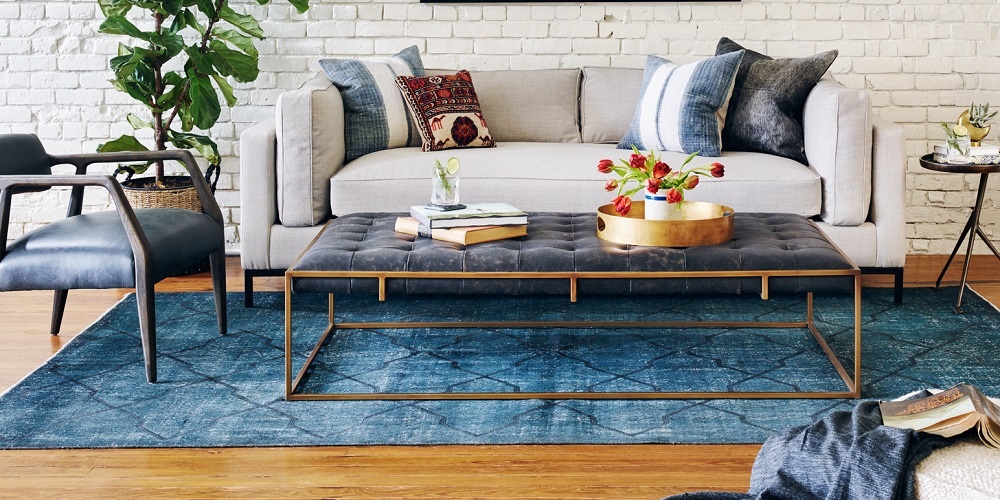 KEEP THE PARTY GOING AFTER DINNER AND GATHER AROUND THE OXFORD LEATHER OTTOMAN COFFEE TABLE
Don't do the dishes, do you!
Don't worry too much, and don't let yourself turn into a butler or waitress: if you've set yourself up everything you need ahead of time, you should be able to have the party you want to have. Stay relaxed and remember you're there to socialise with your friends. Put off or delegate chores as much as you can. Remember: you made all this happen, and everyone's here to have a great time with you!