Posted by Zin Home on 21st Jul 2021
3 Stylish Home Office Decor to

Inspire Productivity
A well designed workspace is conducive to productivity, and there's a look to match any profession and personal style. See three of our favorite setups below, for fresh inspiration in any space, from budding home studio to sprawling corner office. Then, choose a favorite and let creativity flow.
Returns to work or school are rarely considered fun, but prepping for them can be exciting, and make easing back in far better. That's why this month, we're bridging summer softness and fall attitude for a beautiful balance of texture and tone. Whether home studio or corner office, when a workspace is in order, imagination blossoms, with productivity next in line. To keep things feeling fresh and fall-ready, we're looking to small pops of surprise by way of cool material mixes, like trendy leather and rich reclaimed wood, with industrial elements like black-finished iron and alternately warm, rustic finishes. See the styles and influences we're tapping to infuse our August workspaces with vigor, calm and clarity.
Coastal Style Home Office
Mixed, organic materials and bright color pops keep spirits high and creativity in motion. Here, the Palma Rustic Whitewash Reclaimed Wood Desk sets a light, coastal pace, while the Bryson Desk Chair works in color and texture. Layering in a piece of statement art with a positive message makes for motivational fuel.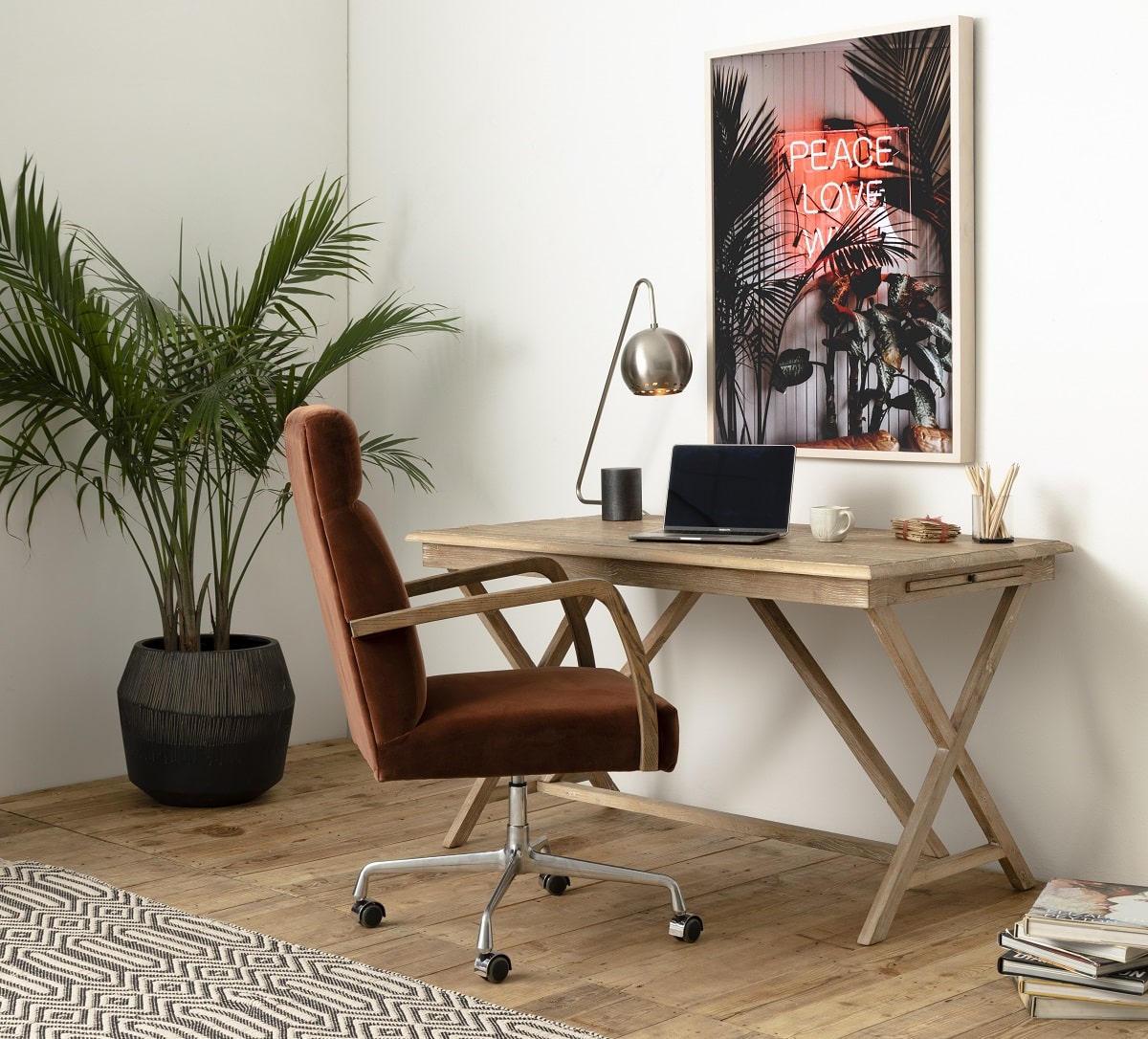 Modern Industrial Style Home Office Design
As productivity soars in personalized workspaces, the Shadow Box Industrial Black Metal Desk allows for the displaying of photos, concert stubs and other treasures, while its matte black iron emits an industrial air.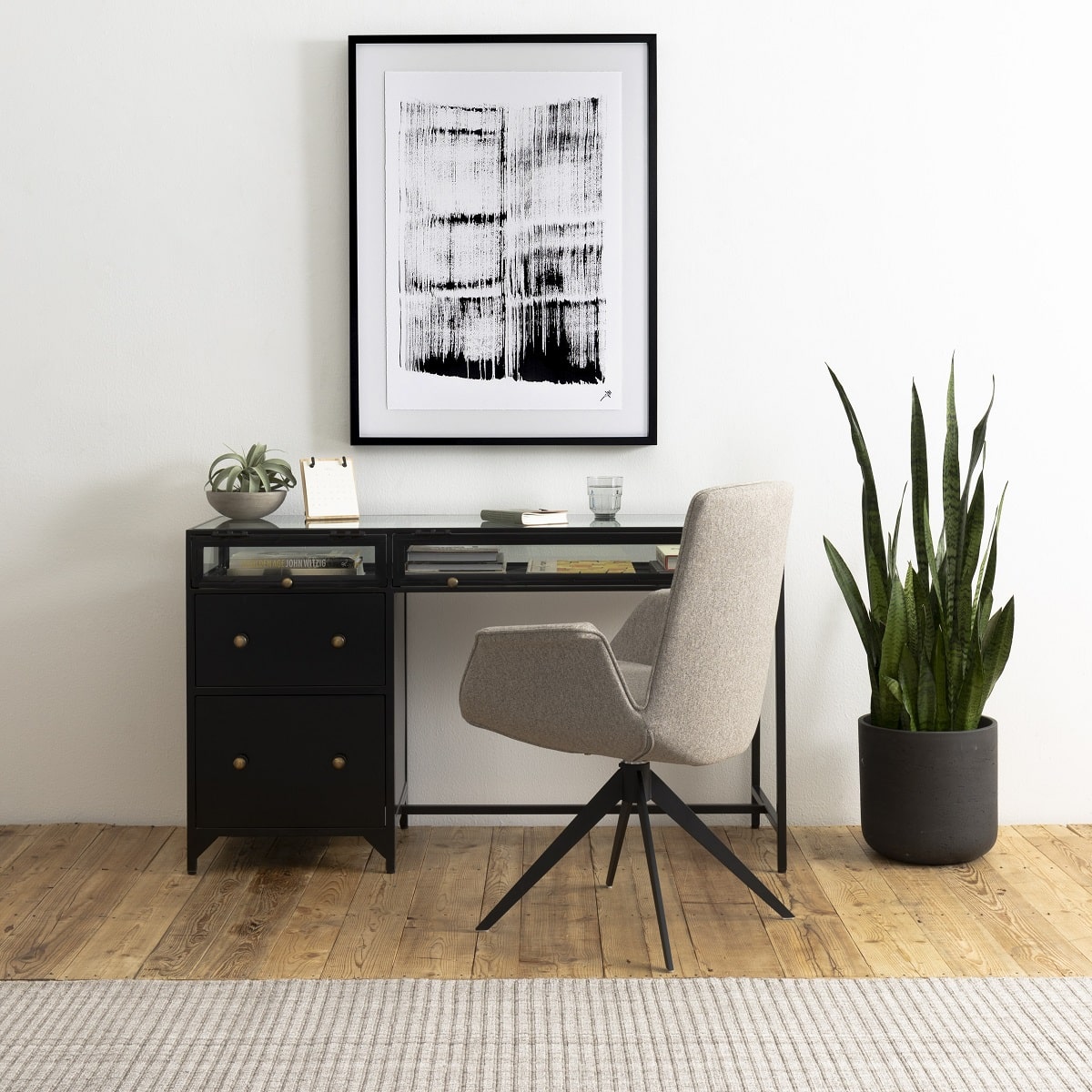 Modernist Home Office Design
Simple and sophisticated, minimalist styling and metal accents make for a masculine-leaning look with subtle edge. With its unique linear carving, the Kelby Wood and Iron 2 Drawers Writing Desk fashions an artisan feel, while a round area rug plays with shaping.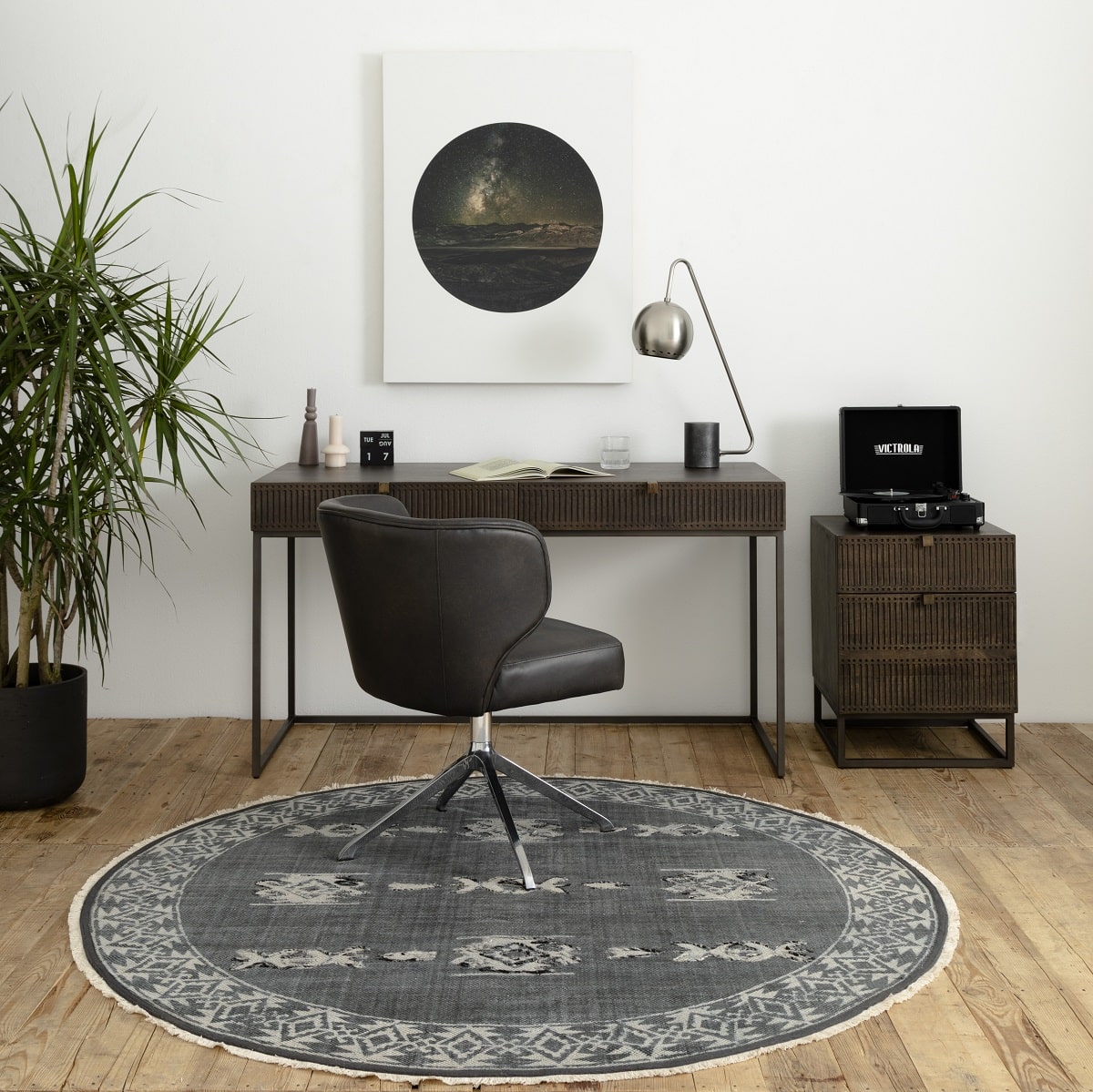 Complete the Look
From mid-century étagère-inspired shelving to industrial barrister-style cabinetry, modular add-on components and more, spacious storage styles are an absolute must-have in any modern office.
Mid-Century Modern Bookshelf
Shapely, étagère-inspired shelving, with natural mid-century vibes. Warm brown-finished acacia forms an open, airy frame, a side-positioned rectangle adding the option to pair with a second shelf to form a mirrored image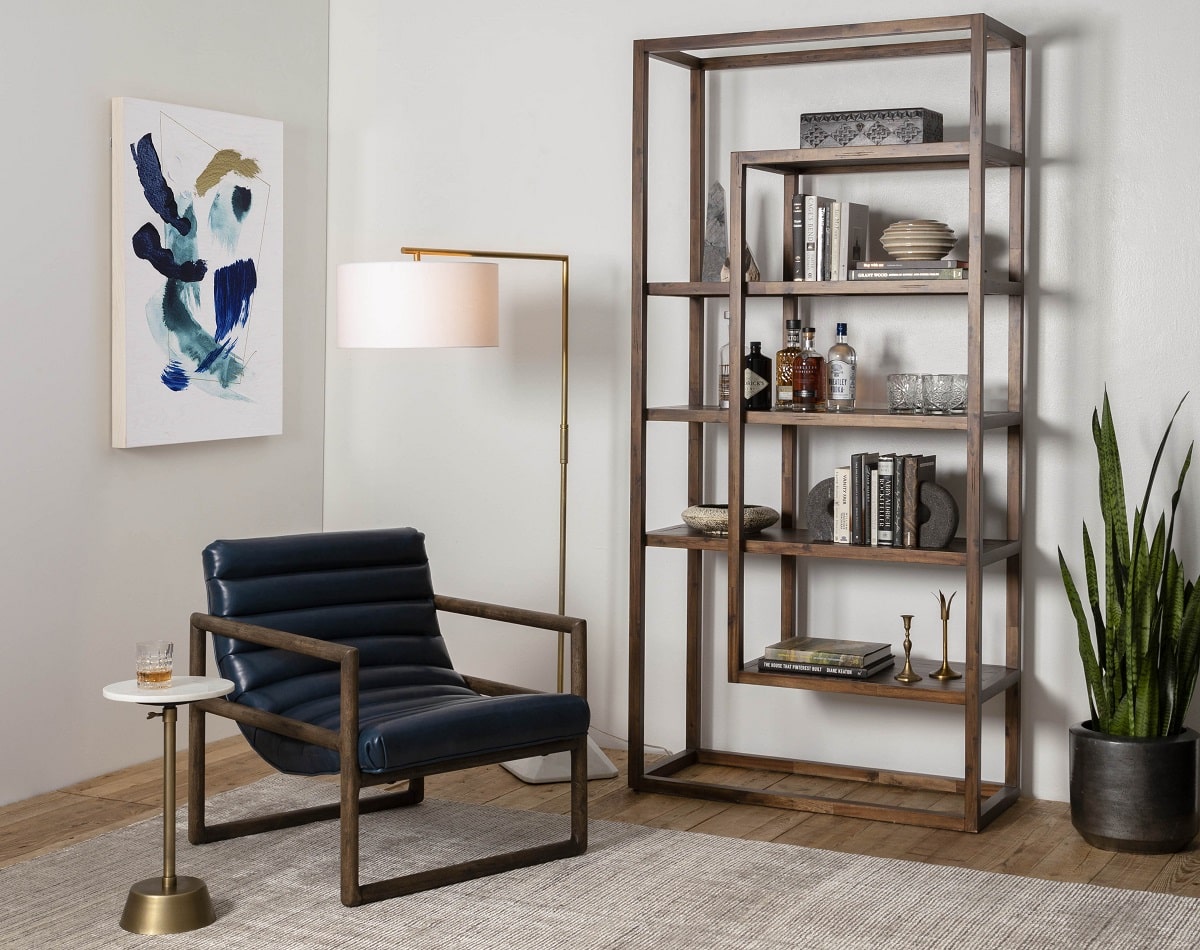 Industrial Style Bookcase
Inspired by the stackable barrister-style shelving, iron casing is finished in a gunmetal for a fresh industrial look, with smoked glass panes with flat brass hardware cover door fronts, each lifting to spacious compartments for storage of books and treasures.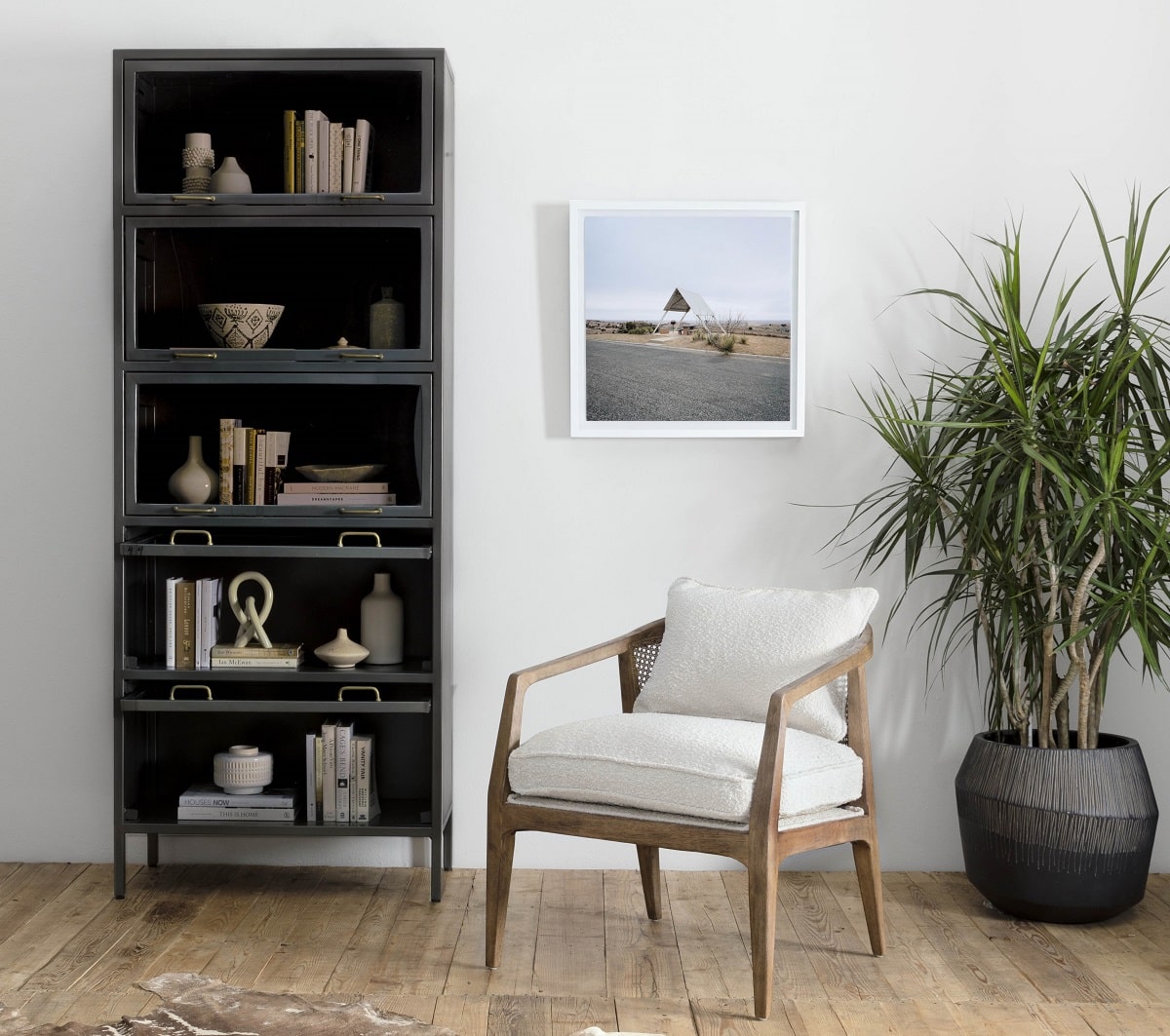 Modular Bookshelves
Simple, Danish-inspired style. A light, natural finish lends a vintage look to oak shelving. Perfect solo or doubled or tripled for a storage statement wall.