Posted by Zin Home on 14th Nov 2022
The Next Generation of Performance Fabric
Introducing the newest performance fabric on the market. Fiqa has spent years developing a responsibly made, durable material that's functional both indoors and out. Soft, comfortable, easy to clean and incredibly versatile, the ultimate revolution in livable luxury has arrived.
What is Fiqa?
Fiqa is a family-run textile company based in Belgium that has spent nearly five years developing this innovative material. The goal was to create a sustainably made textile that could be used in any space, without sacrificing function or comfort. The result? A one-of-a-kind, soft, durable performance fabric that's suitable for both indoor and outdoor use, and it's available for the first time ever through Zin Home . As a lifestyle brand, we thought it was essential to find a fabric that could look and feel beautiful across all categories — including outdoor.
How It's Made
Fiqa production starts with polyester in both the fibers and backing. Polyester is marked by its outstanding durability and flexibility, helping each textile hold its shape and remain comfortable for the life of the product. Plus, the fabric can be recycled repeatedly. Fiqa's OEKO-TEX® and GREENGUARD labels certify that the company's supply chain is responsibly managed at every stage, down to the chemical level.
Once the fibers are made, they go through a water-free solution-dying process. This is an important step when it comes to keeping the fabric sustainable for two reasons: one, it doesn't use water, and two, it more thoroughly dyes the fabric and prevents fading. Solution dying involves getting down to the fiber level — each individual strand is dyed all the way through, creating a rich overall hue that won't fade. Other fabrics on the market are piece-dyed, meaning the entire fabric is submerged into a dye bath.
What Makes It Different
In addition to its unique manufacturing process, Fiqa stands apart from other performance fabrics in a few unique ways:
Versatile: It's made for every room in the house, including outdoor spaces — Fiqa truly is the anywhere textile.
Mindfully made: It's the first-ever eco-friendly performance fabric, crafted from fully recyclable materials.
Durable: The proprietary design is easy to clean, water repellent and antimicrobial.
Practical comfort: Each fabric has the best of comfort and function: supremely soft and luxurious, without sacrificing performance.
Fiqa is soft enough to be an indoor fabric, with the performance required to hold up to the elements. It's a complete offering for both indoor and outdoor spaces.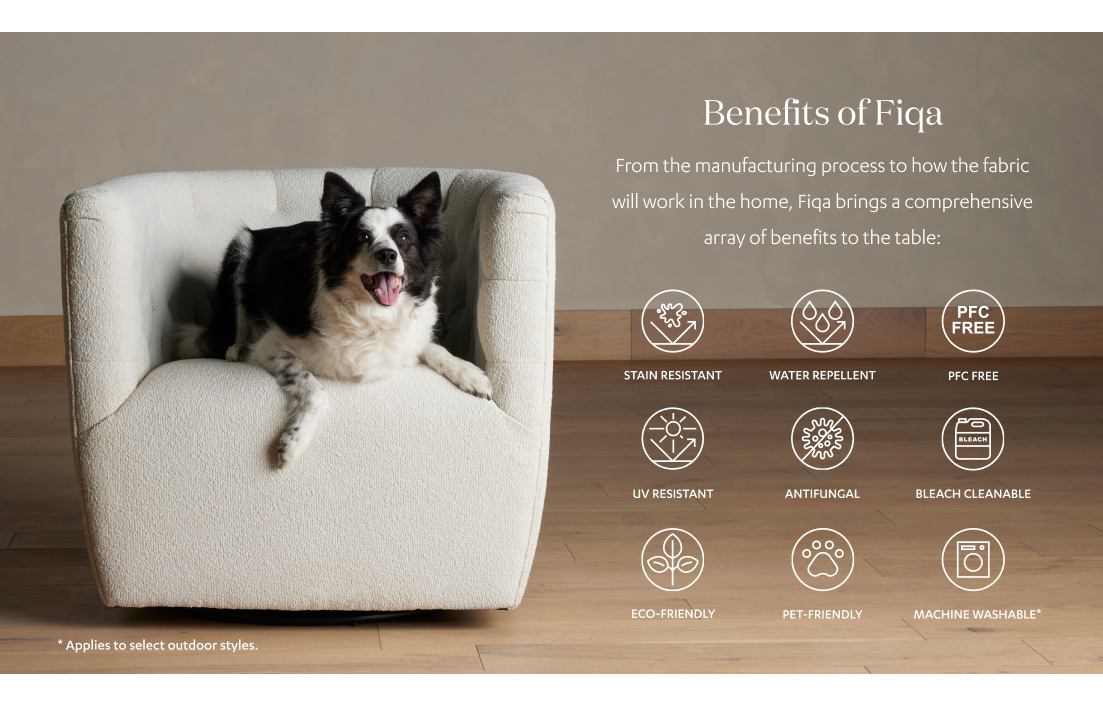 Favorite Styles
Fiqa fabrics can be seen across categories in reimagined favorites and all-new styles, with more designs to come — in dining, living, outdoor and more. The super soft boucle fabric is bound to become a staple in all spaces. Here are some of our favorite styles so far: