Posted by Zin Home on 13th Jul 2021
How to Decorate with Cane Furniture
When it comes to furniture, versatility is key. Natural materials are smart, resourceful go-tos when it comes to home décor, thanks to their ability to be mixed and matched with ease. With a light, woven look and easy, organic vibe, cane-driven designs are a great way to work wonderfully unmatched texture into any room. Read on to see how we look to cane to elevate our own spaces. When you're ready to explore more products and top design trends, become a Zin Home customer so you can shop all styles online with ease.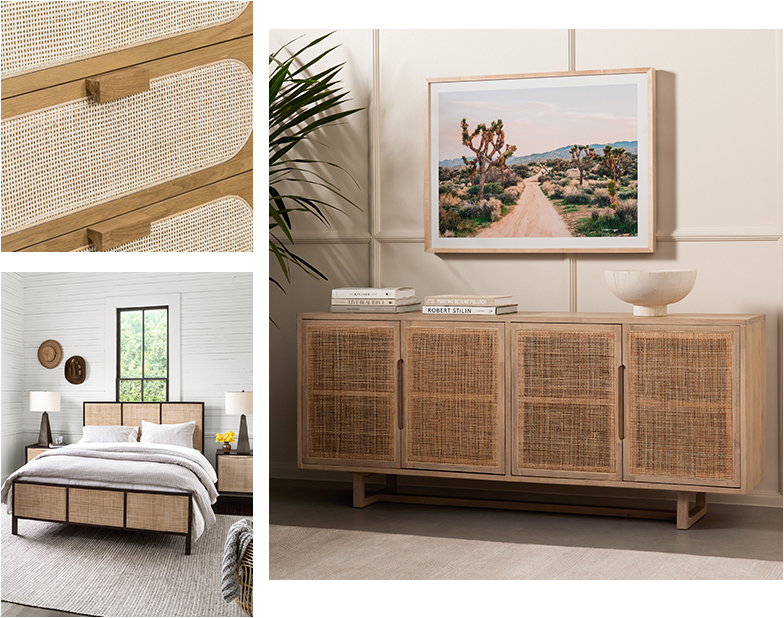 Pictured Left: Sydney Woven Cane Queen Platform Bed , Allegra Woven Cane 5 Drawers Oak Tall Dresser
Pictured Right: Audrey Woven 4 Door Sideboard 72"
Create Contrast
When styling with natural cane, adding dark brown or black accents crafts a crisp, high-contrast look that feels clean and sophisticated. Black-finished metals, dark woods or even bold statement art meet cane's lightness, for a great sense of visual drama.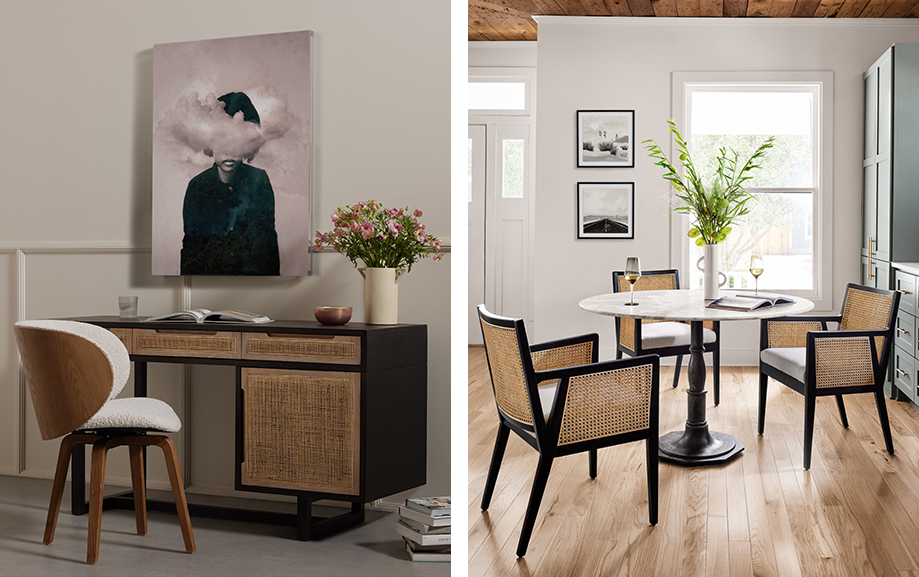 Pictured Left: Audrey Woven Wicker Writing Desk 60"
Pictured Right: Antonia Cane Back Dining Arm Chair, French Industrial White Marble Round Dining Table 48"
Make It Monochromatic
For a pared-back, Scandinavian-inspired look, pair cane pieces with other naturally finished materials, like pale woods or light leathers. Together, these complementary hues craft a light, beautifully simple look while maintaining textural interest.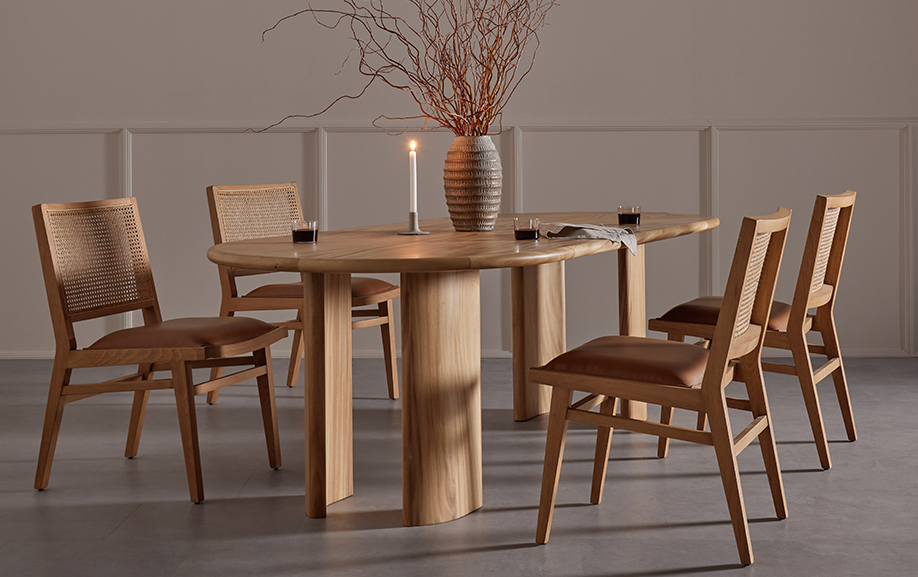 Pictured: Lunas Oval Dining Table
Mix & Match
One major benefit of cane furniture is its adaptability. Thanks to its naturally neutral hue, cane effortlessly pairs with a range of other materials, from warm woods to cool metals, fine upholstery and more. Whether it's a room's focal point or a decorative accent, cane's presence alongside other materials creates a uniquely eclectic look that's surprisingly simple to create.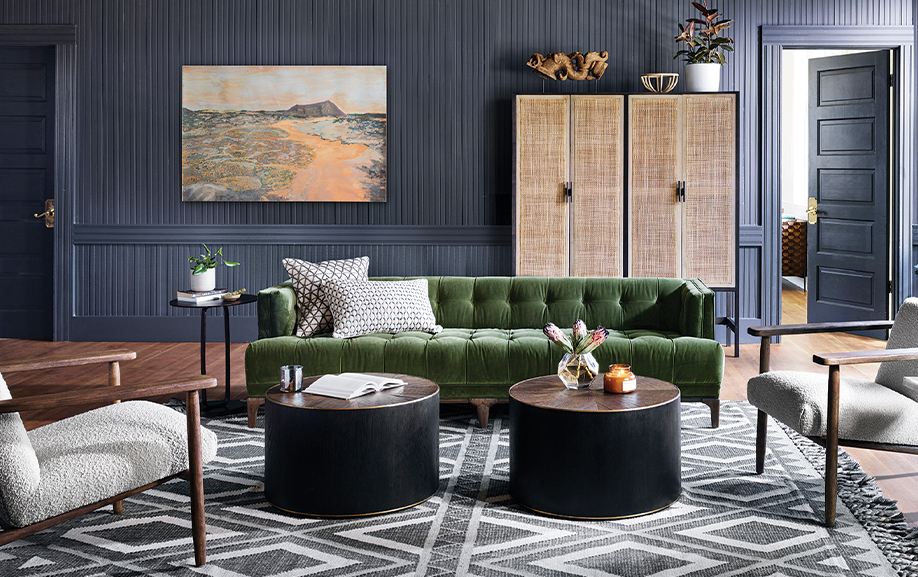 Pictured: Audrey Woven Wicker 4 Door Storage Cabinet, Dylan Mid-Century Modern Olive Green Velvet Tufted Sofa, Perry Reclaimed Oak Round Drum Coffee Table, Arnett Modern Cream Bouclé Club Chair
Mid-Century Inspiration
Brass accents are a great way to bring a touch of mid-century influence to the room. Here, metal-driven light fixtures and bronze-finished chair legs lend a sense of retro warmth to a cane-and-wood dining table and sideboard combination.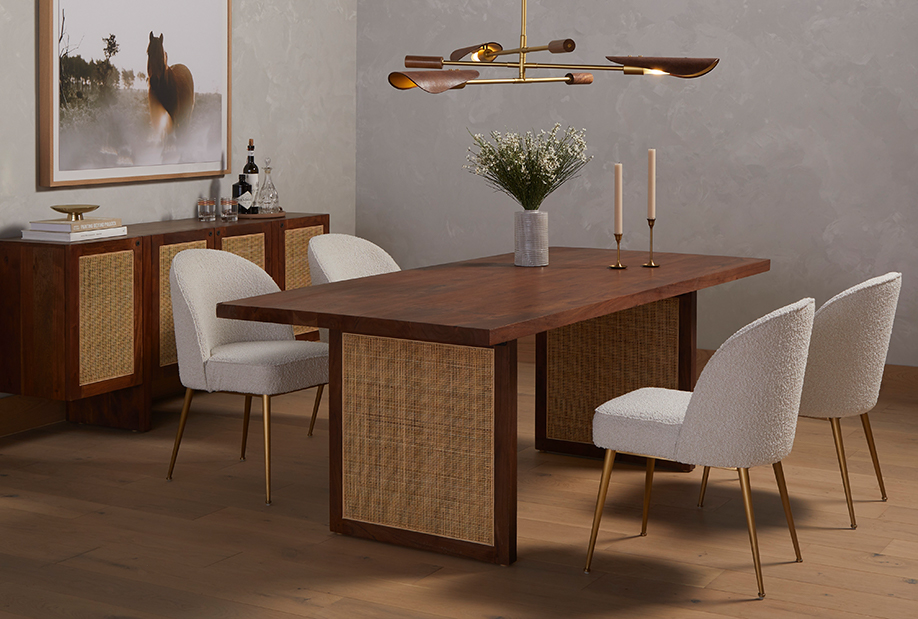 Pictured: Goldie Woven Cane Modern Dining Table 82", Jolin Modern Cream Boucle Dining Chair, Goldie Toasted Wood Woven Cane 4 Door Sideboard 70"
Just Add Texture
Cane's best feature is its beautifully distinctive texture, which, even in small doses, can change or elevate the look of a room. Whether it's a grandly scaled bookcase, a trend-forward home office chair or a petite planter as a fresh accessory, woven cane adds a sense of depth to any space.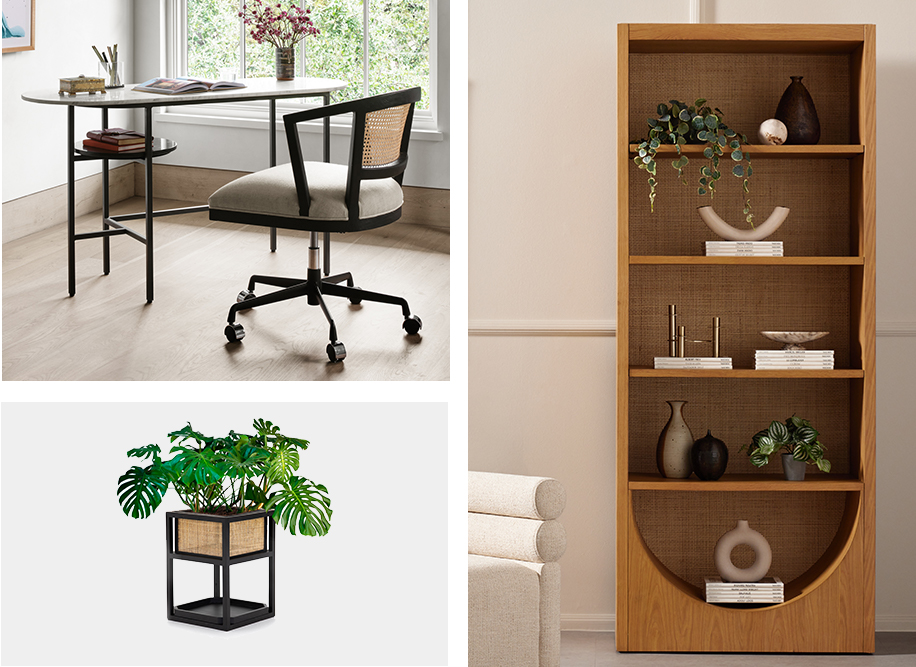 Pictured: Alexa Woven Cane Back Office Desk Chair , Higgs Woven Cane Back Oak Wood Bookshelf
Ready for more inspiration?
Checkout our website for 1000s products and fresh design ideas