Posted by Zin Home on 14th Sep 2020
Miranda Kerr Home Furnishings
Ever wanted to style your home like a supermodel? Australian icon Miranda Kerr has launched her very own home furniture line, Miranda Kerr Home, and its as chic as you'd expect.
"As someone who loves the sanctuary of being at home and surrounding myself with beautiful pieces, it has been a dream of mine to create my own collection of furniture that not only looks aesthetically pleasing and functional for family living, but that also promotes a warm, positive, loving energy in the home. My Miranda Kerr Home collection with Universal consists of nearly 50 furnishings for living room, dining room, kitchen, bedroom and office. The pieces are contemporary and unique in style with soft neutral colors, beautiful fabrics, gorgeous brass detail, geometric shapes, colored glass and touches of mother of pearl inlay sprinkled throughout. It's timeless and each piece can be easily integrated with existing pieces in your home. My hope is that the pieces will bring a little Love, Joy and Bliss into your home."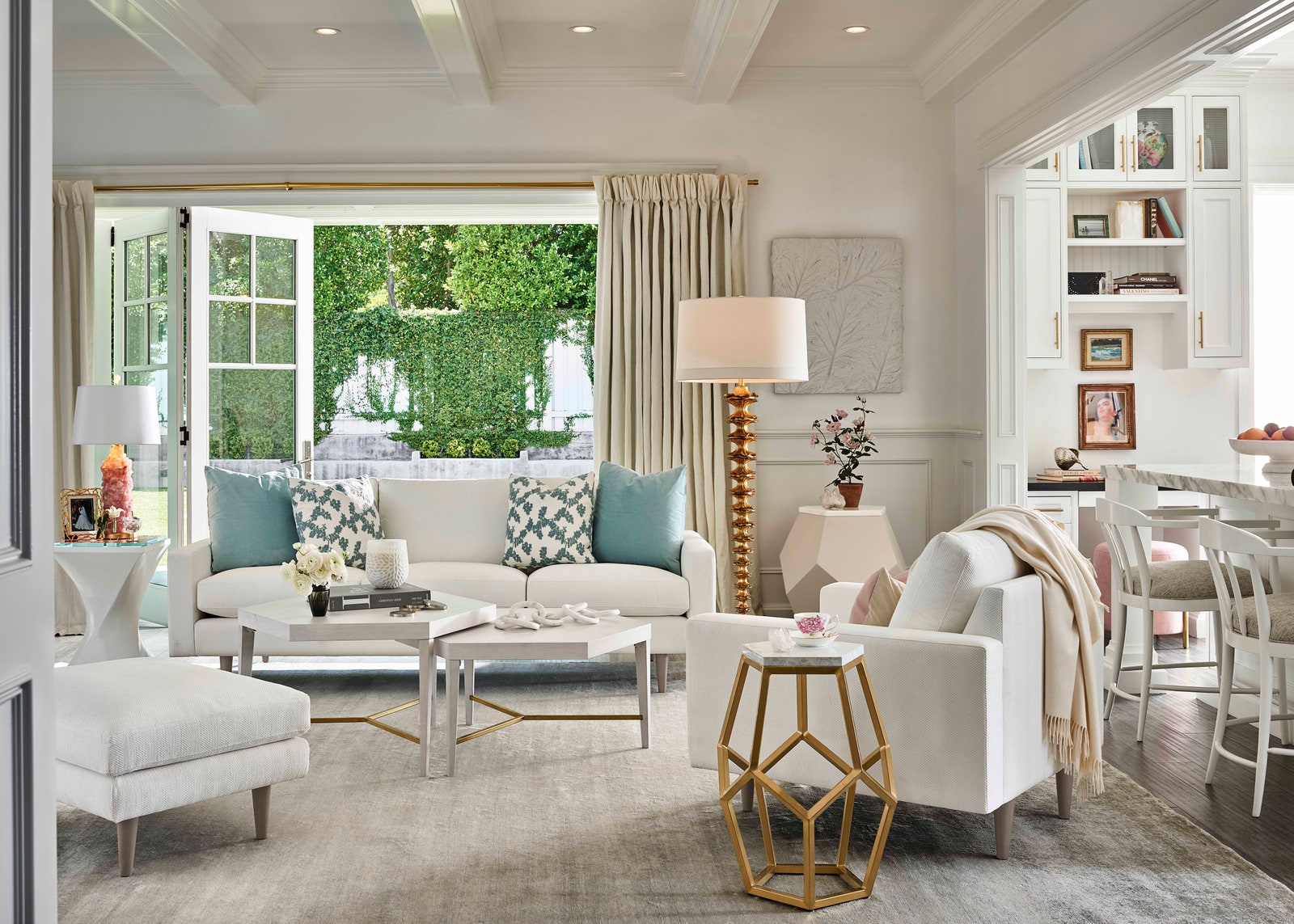 (The Brentwood Chair (with Brentwood Ottoman) and Brentwood Sofa are dressed with "Love.Joy.Bliss." pillows. Here, the furniture is centered around the Sydney Bunching Cocktail Tables, which come in wood with brass-finished accents.)
Also known as Love.Joy.Bliss, the 51-piece Miranda Kerr Home collection consists of tables, beds, seating, and mirrors for the bedroom, the living room, and the dining room/kitchen. "I originally wanted 'Love' to be for the bedroom, 'Joy' to be for the kitchen, and 'Bliss' to be for the living room," Miranda says. "However, as the collection developed I realized a lot of the pieces were versatile from room to room—so you can have love, joy, and bliss in every room!"
(A tale of two Theodoras: Miranda sits atop a Theodora bed while Theodora—aka Teddy—her Australian Labradoodle, sits beside a Love Joy Pouf. Flanking the bed are Peony Nightstands; above it are a pair of Kawaii Accent Mirrors.)
Miranda Kerr: I've always had a fascination with art and design, including furniture and homewares, so it's been a desire of mine to collaborate and create a collection for some time. When Universal Furniture approached me, I thought, This is a great opportunity—and a great fit. They really understood my aesthetic. I've loved styling my apartments in New York and, now, my houses in Brentwood and Malibu. And so it was incredible when they approached me and asked if I would like to be involved. I said, "Yeah, sure. Here are my ideas." I had a whole concept with a vision board and they said, "Wow, this is amazing. No one's ever come to the first meeting like this before!"
The Runway Console
"The Runway Console is so chic and versatile as it can be used in different spaces. I love the taupe lacquer finish and wanted a variation of shape in the cabinets to resemble a gemstone."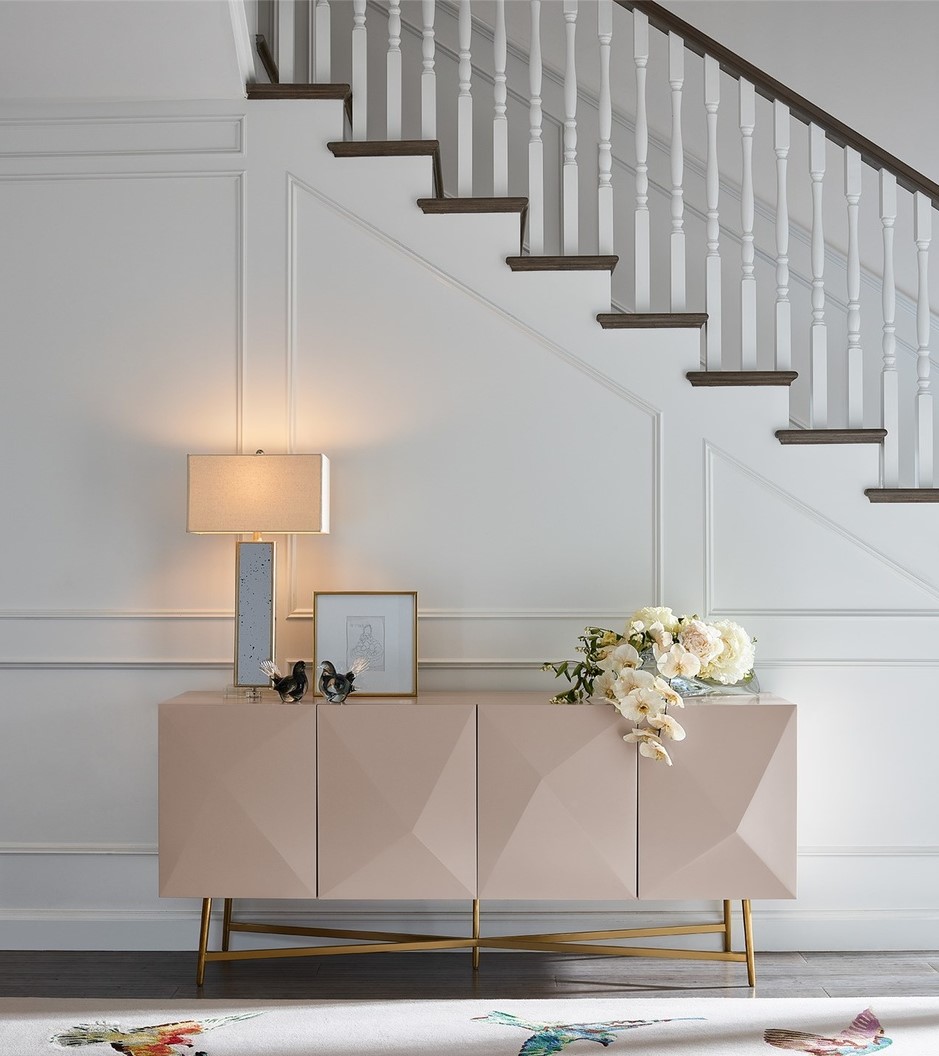 Love Joy Bliss Round Dining Table
"I was inspired by sacred geometry when designing this collection, which is why I wanted the Love Joy Bliss Round Dining Table to have this gold geometric base. I like the open feeling it has and that you can see the design through the glass"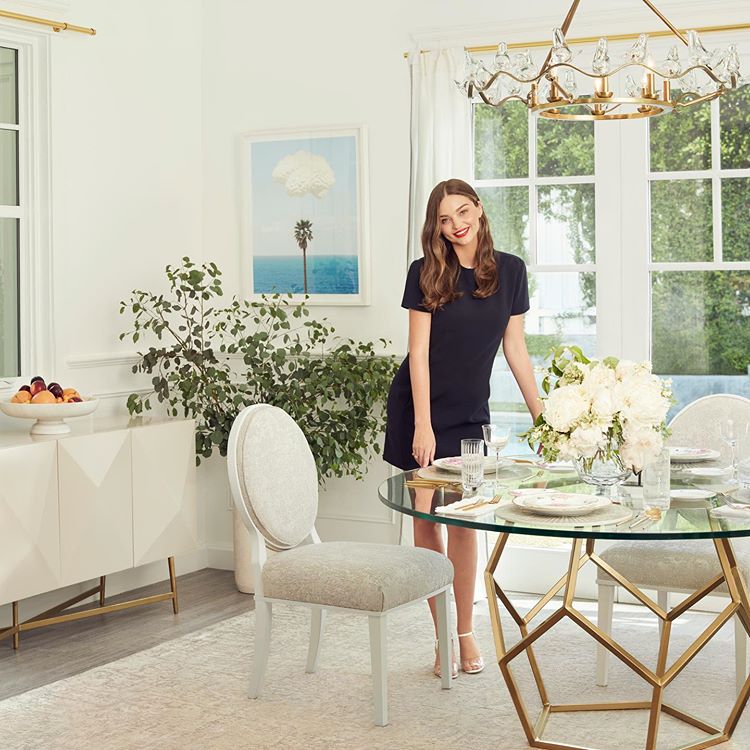 Peony Nightstand
"I wanted the Peony Nightstand to be large and have the glass top feature so that you can display books and photo frames underneath, keeping the top surface clean & simple."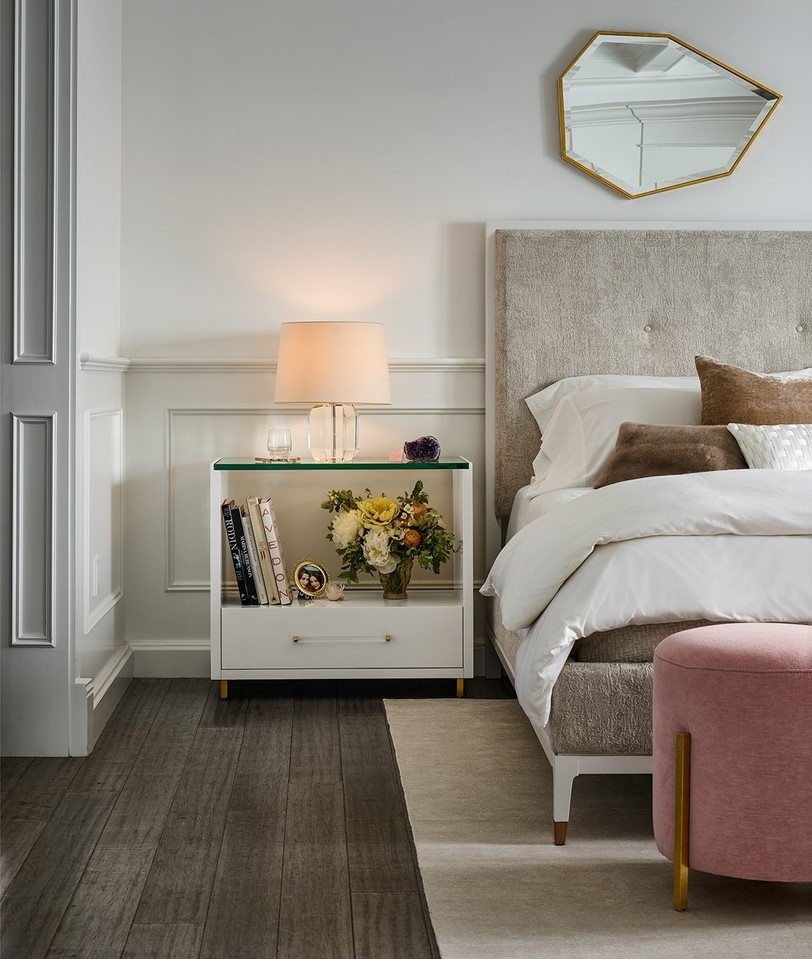 Bedroom Furniture
The "Love.Joy.Bliss" bedroom furniture is chic, feminine, and modern, with pieces like the Peony Drawer Chest (which features custom hardware) and this pink-colored Poof.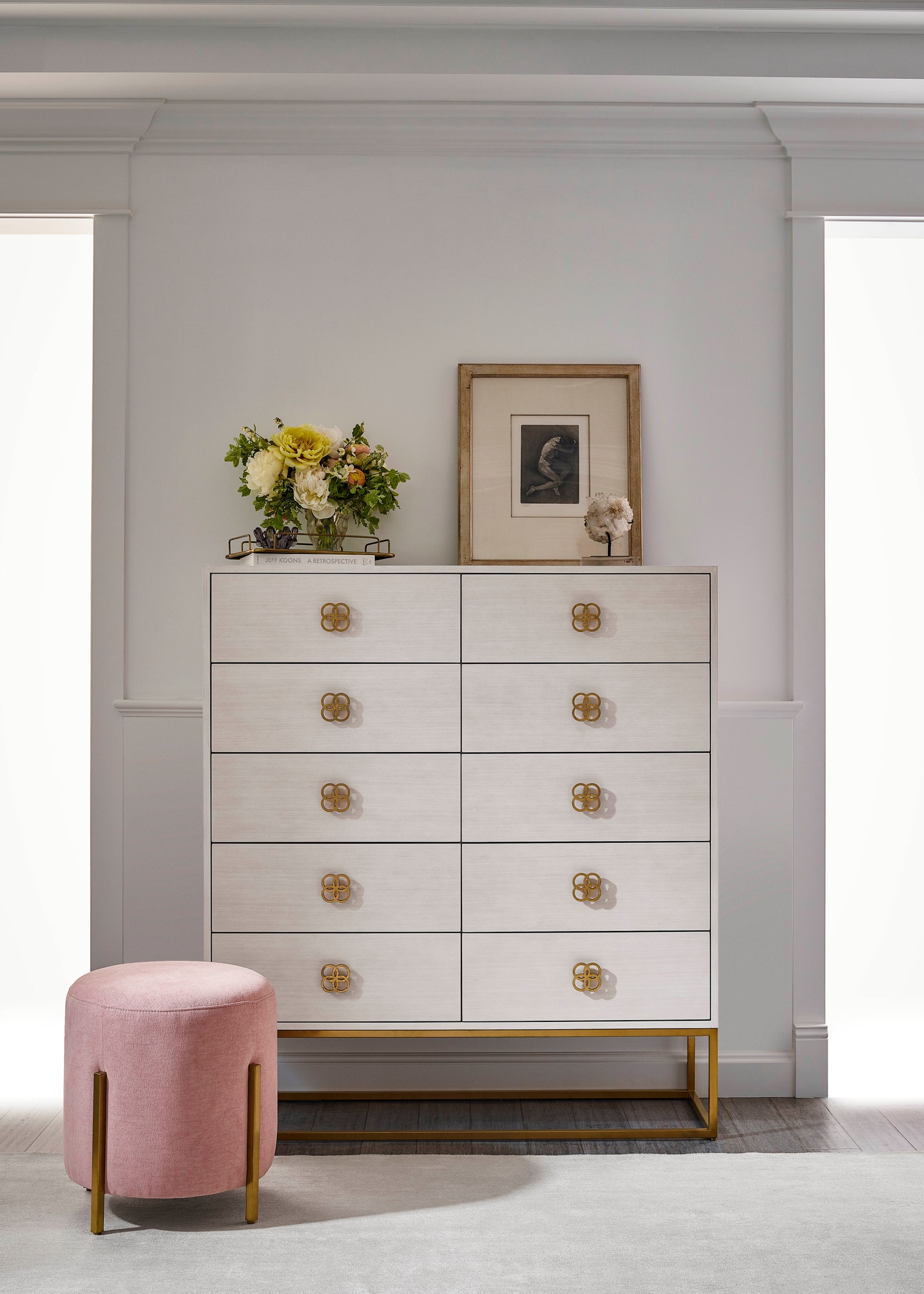 Joy of Dining Room
The Round Dining Table is geometric and glass-covered with brass-finished accents. The Opaline Bar Cabinet's doors (in Mother of Pearl) open to show extensive drawers and shelving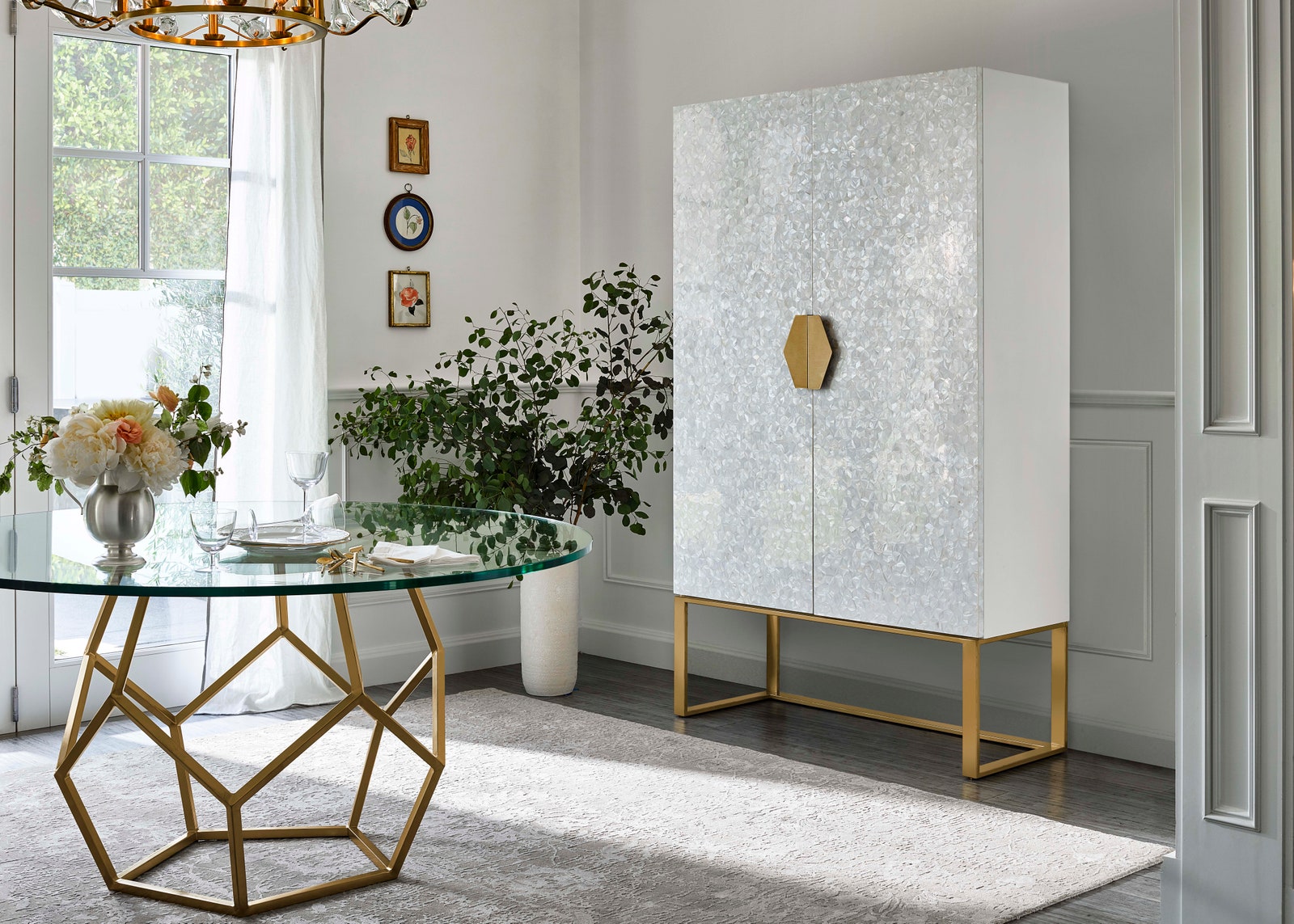 "I love the blush pink color used on the Cali Accent Chair," Miranda says. "It reminds me of rose quartz crystal, which is my favorite crystal, as it's the stone of love. On this chair you also have the tactile experience of the different fabrics used—the knobby bouclé fabric on the front and the soft velvet fabric on the back." Also shown: the Uptown Bed and the Chelsea Nightstand.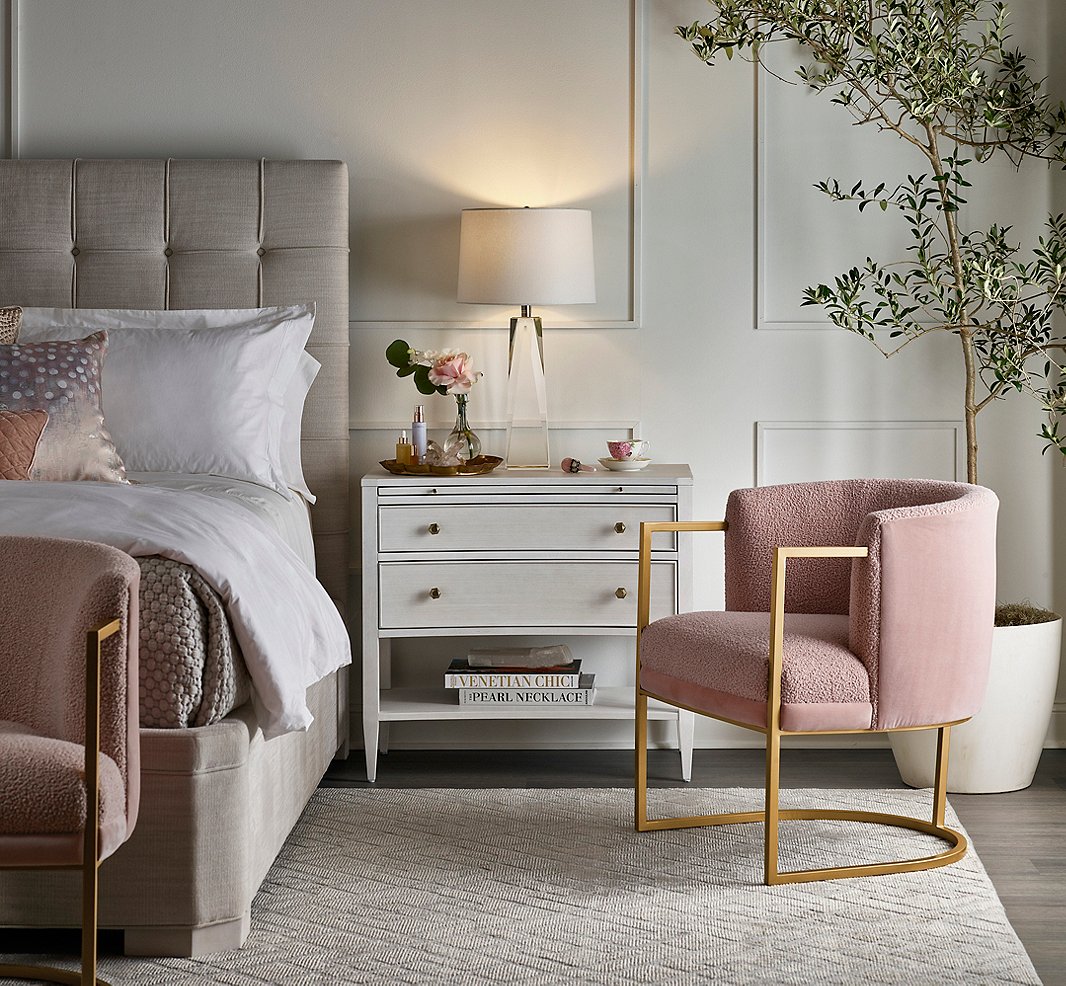 I feel inspired by every place that I've traveled, including obvious places like Paris, New York, Morocco, Japan, China, and Australia. I feel it's been incredible to be exposed to so many different cultures and so many different traditions. I feel like I'm a very tactile person. I love different fabrics and mixing elements, whether that's in fashion or in the home. Our senses can be so soothed by the fabrics and textures around us, whether it's what we're wearing or what we're interacting with in our environments. I've worked with some of the most creative people in the business, which has had a major influence on me.
It's a funny thing because I speak to my husband about this. I say, "Look, we've traveled and experienced some of the most beautiful places in the world and I can honestly say, with my hand on my heart, our home is the most aesthetically pleasing place." It's somewhere where I feel that everything is where I want it to be.